Make it a terrific weekend, Hornets! #HornetStrong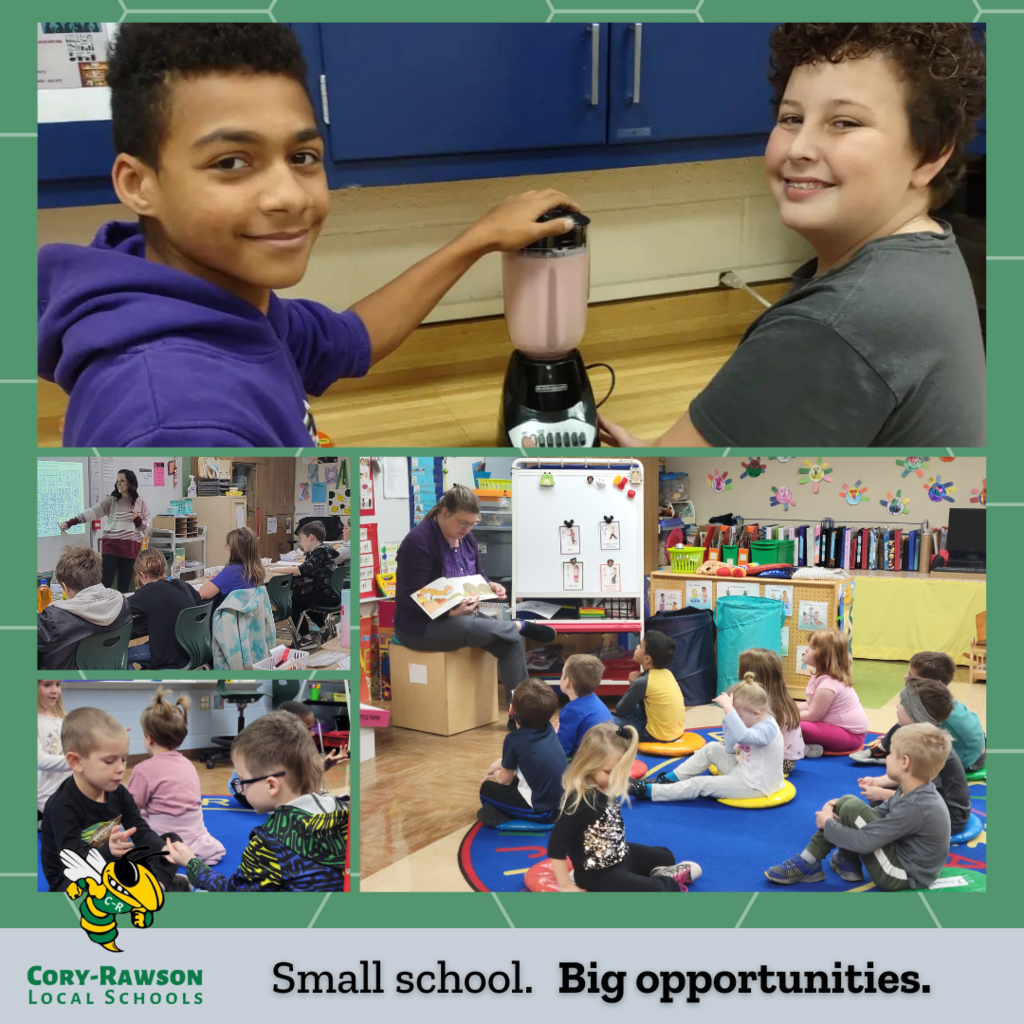 Cory-Rawson presents the Sounds of the Season featuring our student musicians in grades K-12! Join us for our holiday concerts over the coming weeks. #HornetStrong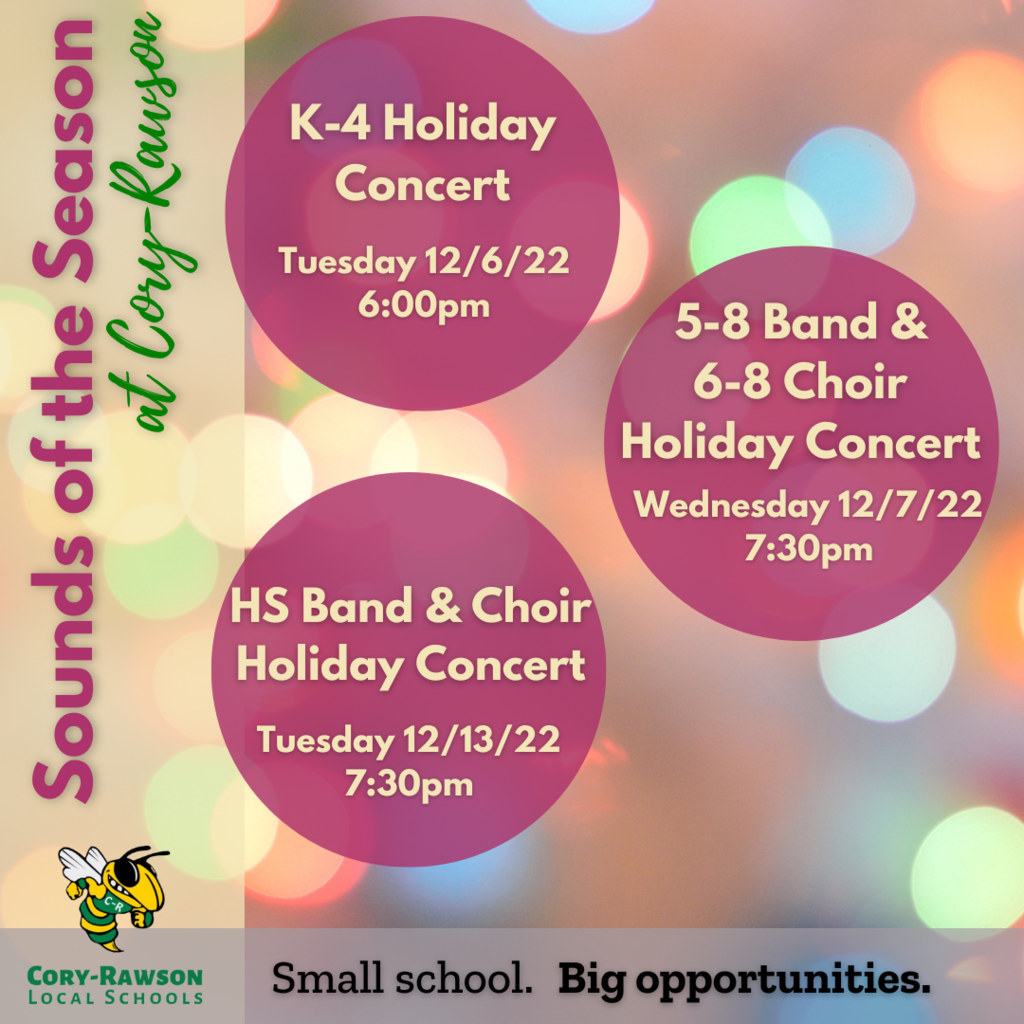 The holiday spirit is in full force!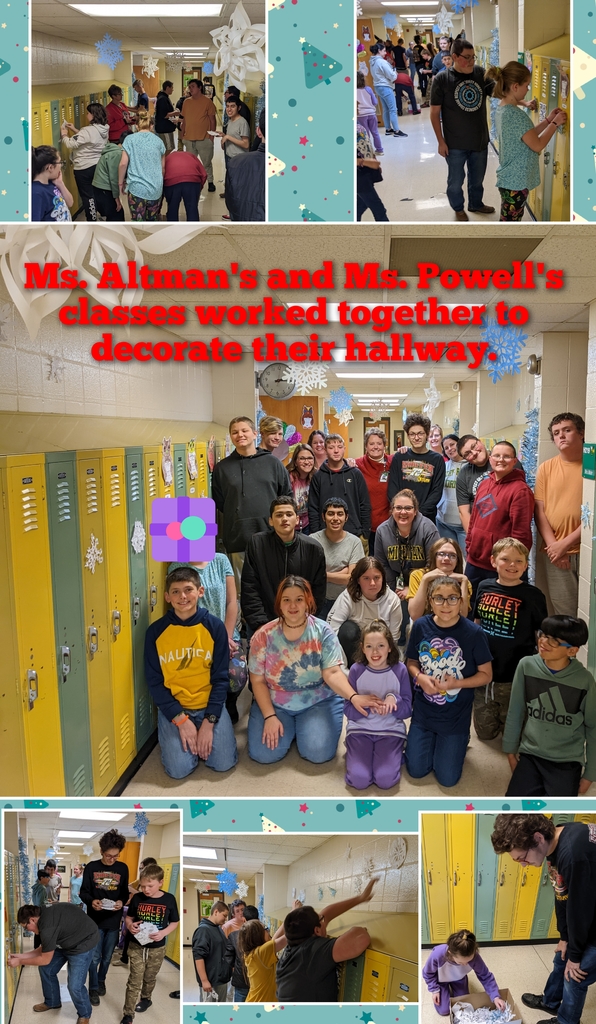 Students in our Environmental Science class had the opportunity to participate in a deer processing lab yesterday. Students gained knowledge on how to field dress, skin, and get the meat ready for the freezer. Jaron Beck (ONDR Outdoor Skills Specialist) led the lab and we welcomed guests Abby Ditomassi (ODNR Communication Specialist) and Frank Price (Sportsmen Alliance Director of Education). Thanks to Ms. James for use of the FFA shop! #HornetStrong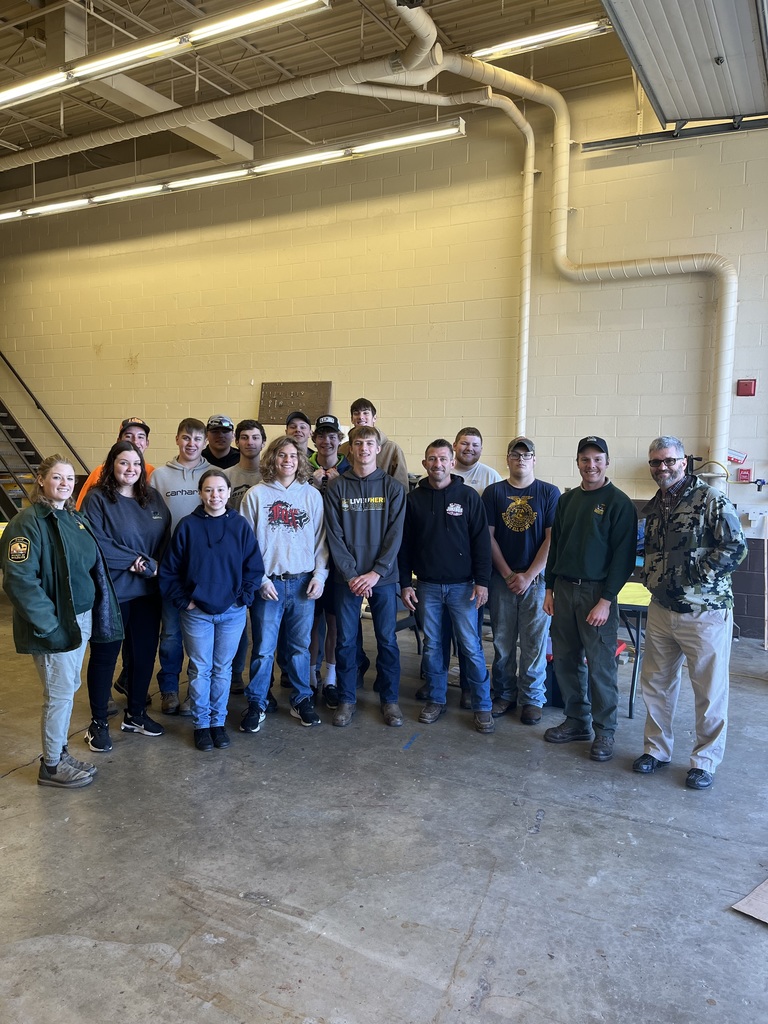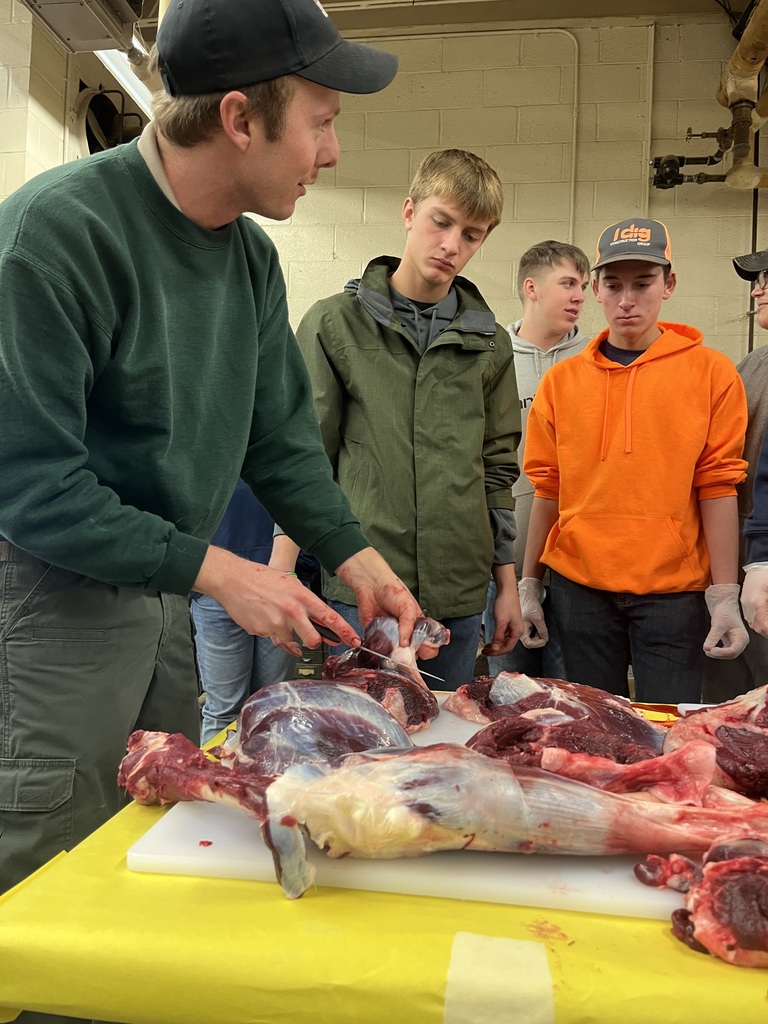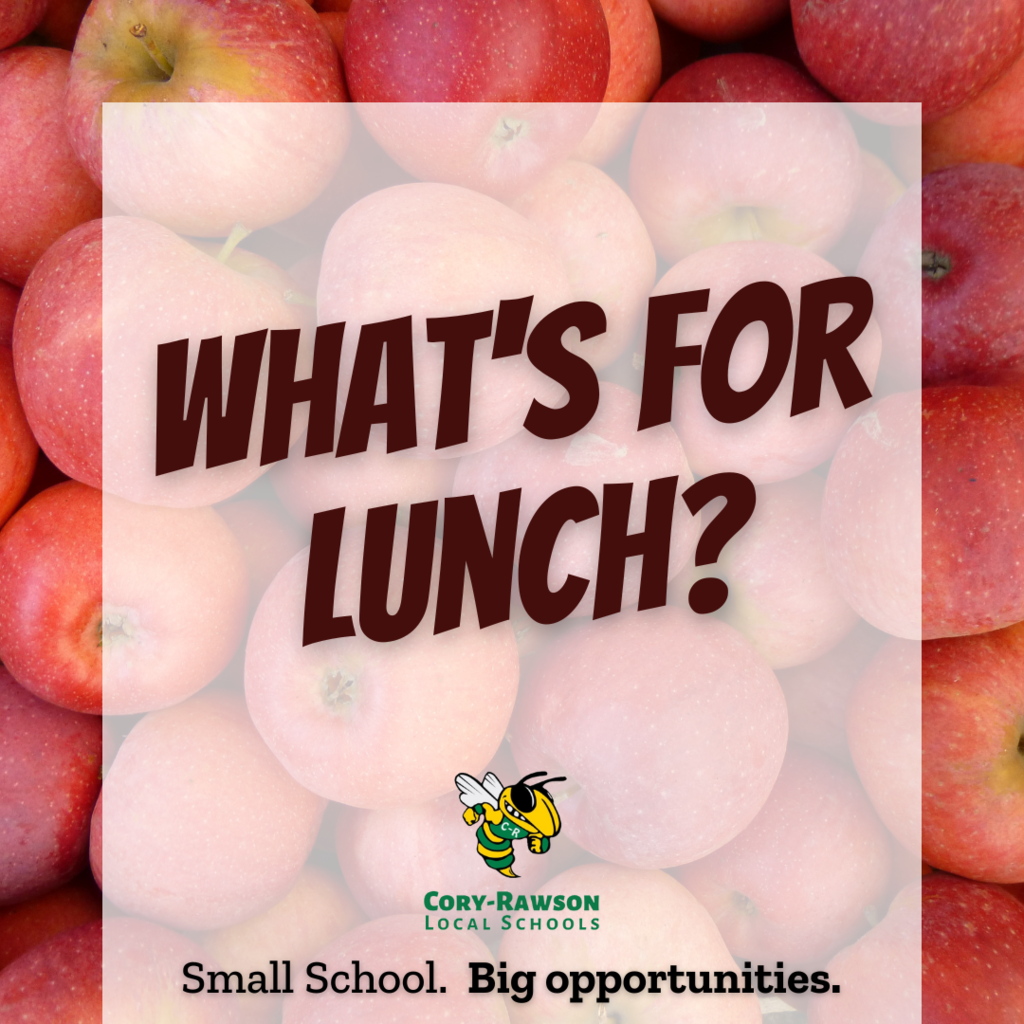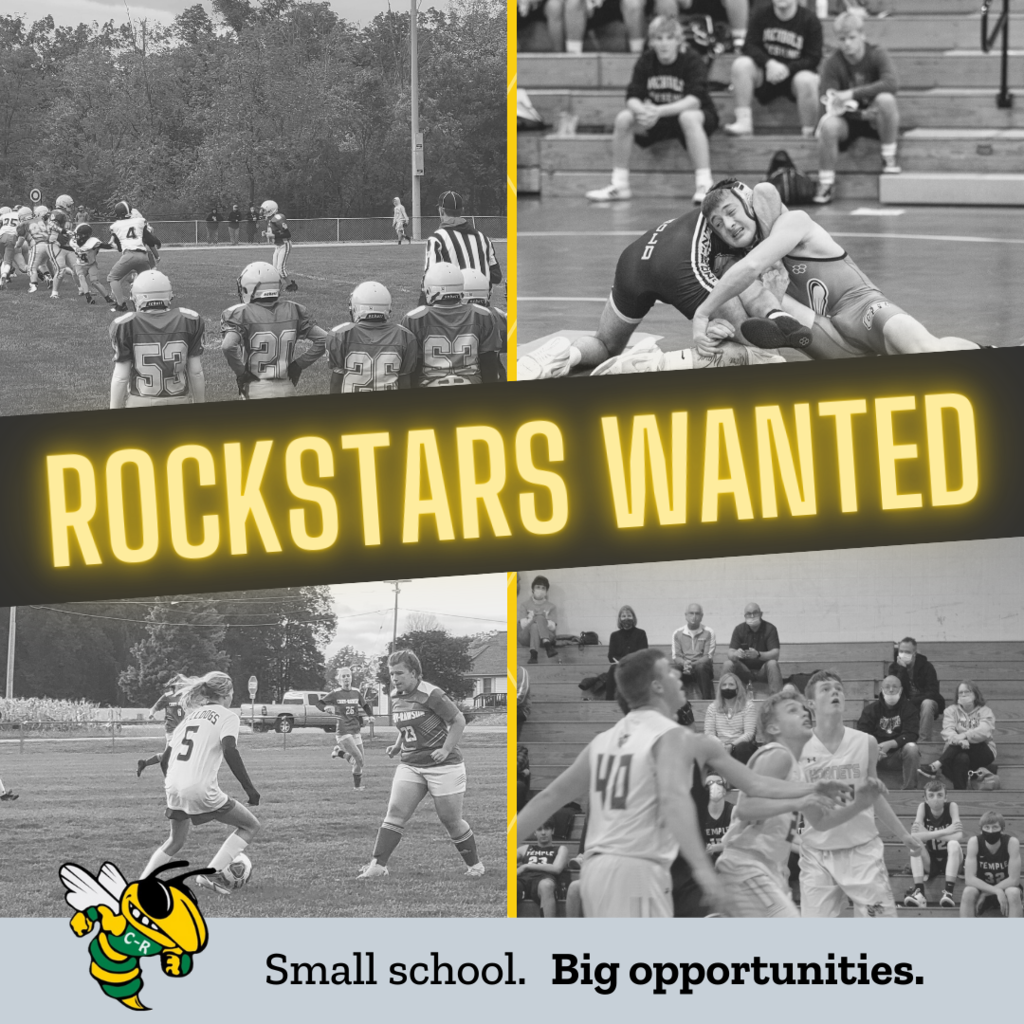 Happy Thanksgiving to all of our Cory-Rawson families, staff, and community! Classes resume Monday, November 28. #HornetStrong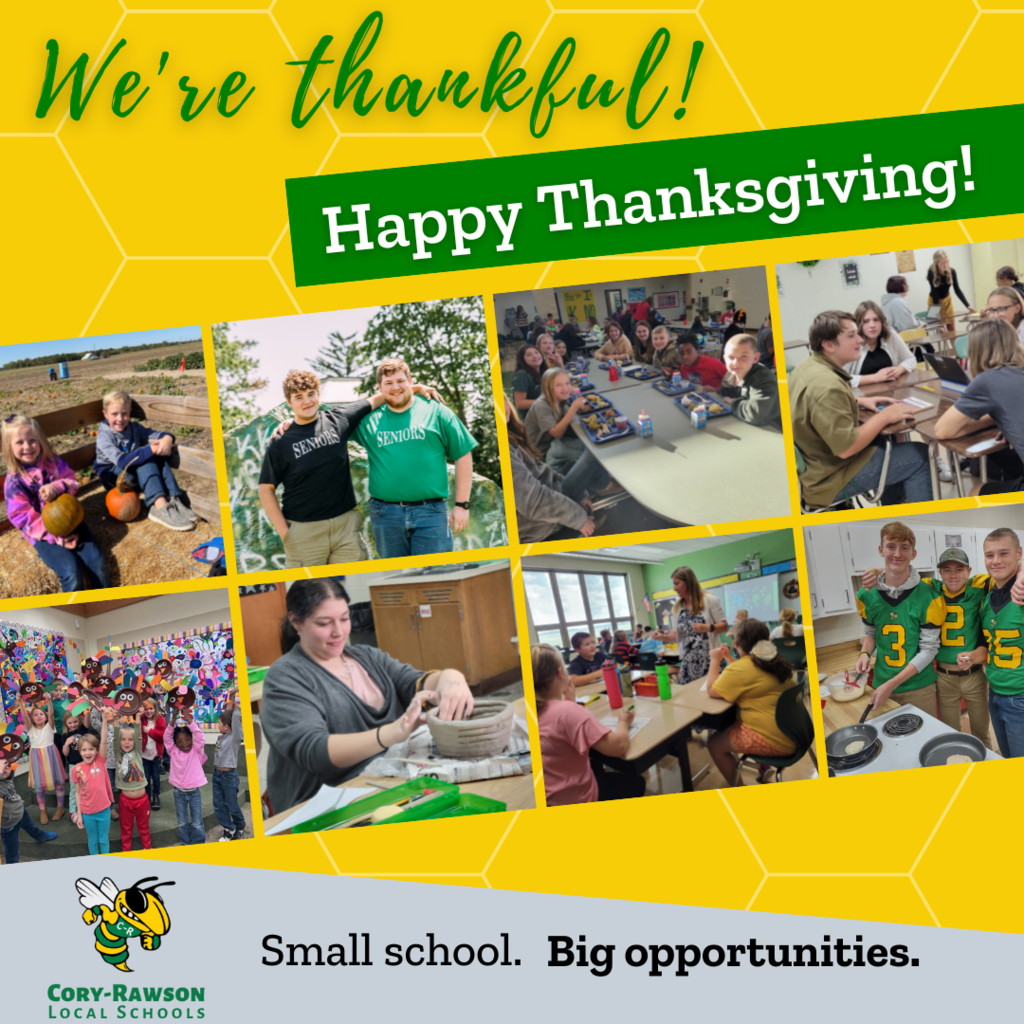 We're THANKFUL for our food service staff, who roasted turkeys in order to provide an extra-special Thanksgiving lunch for our students and staff today. #HornetStrong

Community Food Resource Calendar - check out the day-by-day listing of food resources in the Findlay area for families.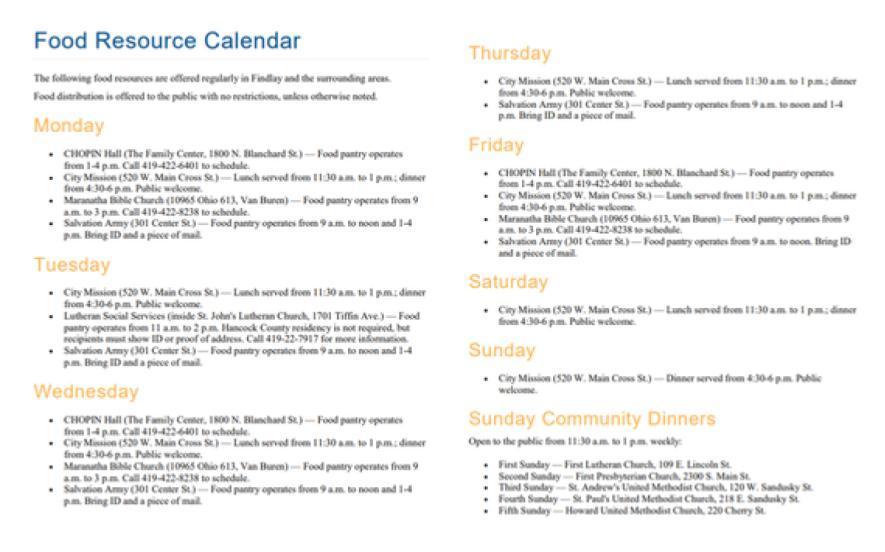 Mrs. Hagemyer's 6th grade classroom finding ways to explore rocks and minerals while working together in the science lab!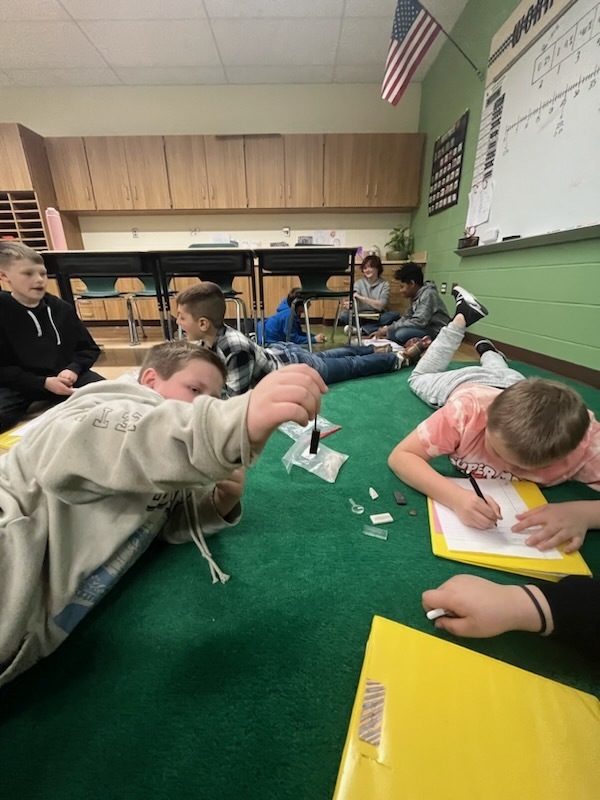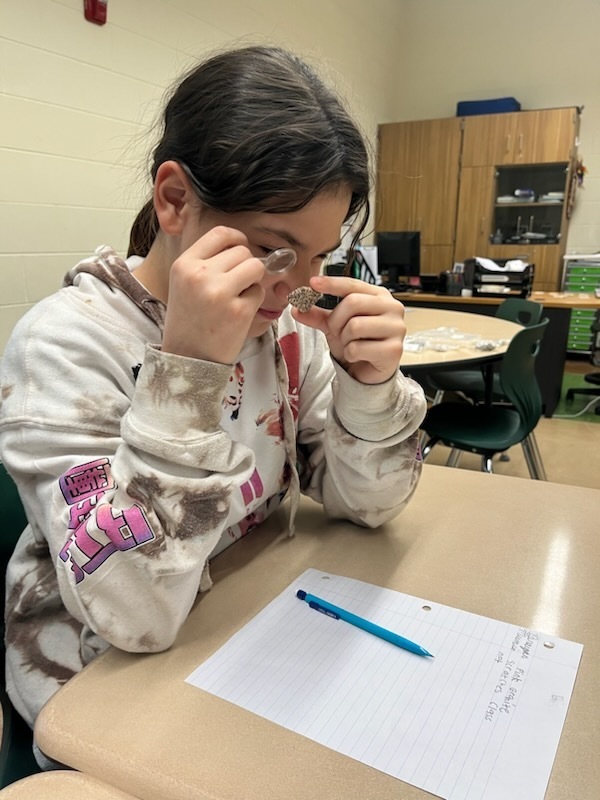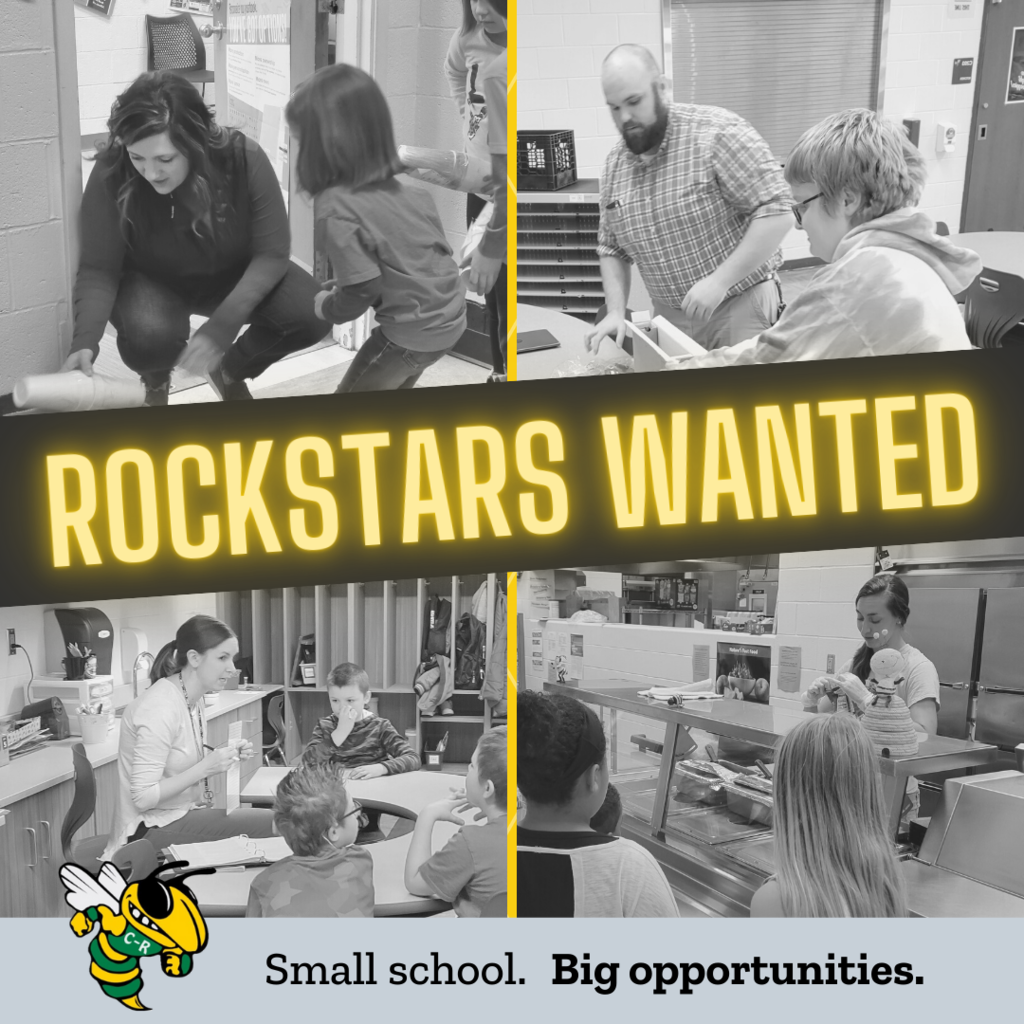 Have a safe weekend, Hornets!!! #HornetStrong

Yesterday the HS rocked out at our first ever Quarterly Academic Celebration!! We took time to recognize Honor Roll, Perfect Attendance, and student accomplishments as well as several other celebrations that happened throughout the 1st quarter. Among those awarded were our Super Hornets!! These individuals were selected from positive referrals submitted from staff members throughout the 1st Quarter!! Congratulations to our 1st Quarter Super Hornets: 7th - Farrah Howard-Crowe 8th - Liam Johnson 9th- Preston Campbell 10th- Blue Marquart 11th- Mason Brown 12th- Madelyn Duffman and Korryn Karcher (not pictured) Teacher: Mrs. Stockwell

A big THANK-YOU to our classroom aides! They fill a variety of roles throughout the school day, but most importantly, they care deeply about our students! #HornetStrong

Today, Mr. Parkins and three CRHS students are sharing our Environmental Science program with attendees from schools across the state at the Ohio School Board Association's Capital Conference in Columbus. #HornetStrong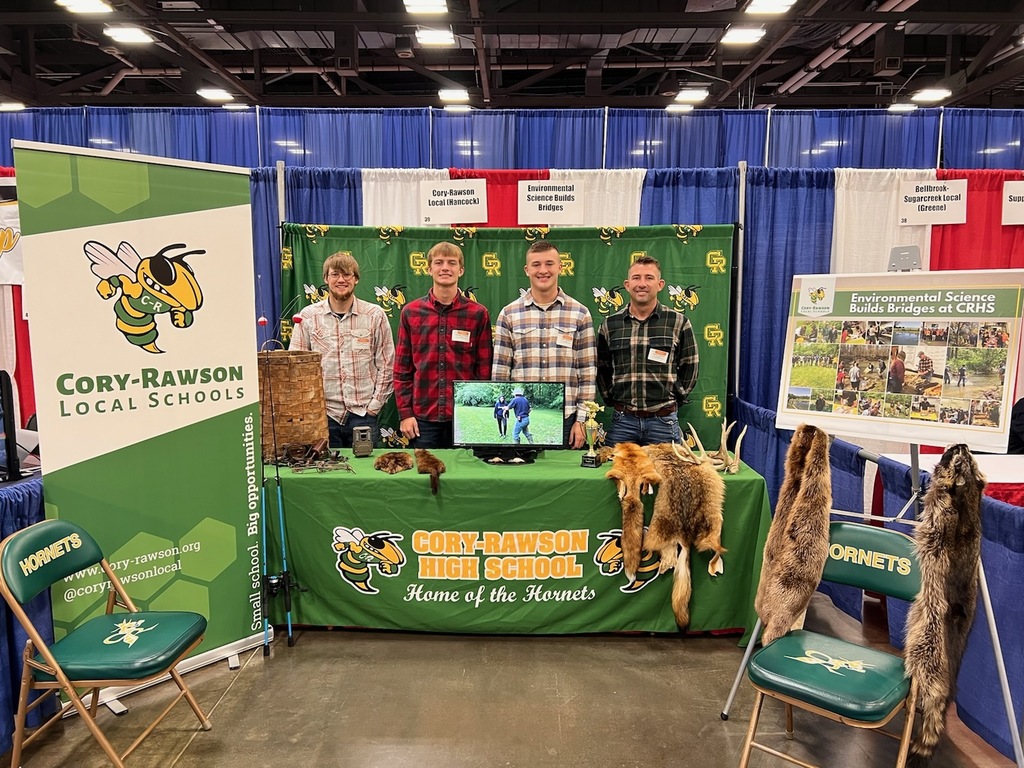 Thank-you to all who served, protecting our freedom! #HornetStrong

Congratulations to Mrs. Ashley Mohr, 7th/8th grade intervention specialist, who was recognized today with an Ohio Middle Level Association regional award. Mrs. Mohr's nomination stated: "Ashley goes above and beyond to build relationships with students and because of these relationships is able to tap into a student's full potential. She is creative, innovative and not afraid to push the norm." Way to go! #HornetStrong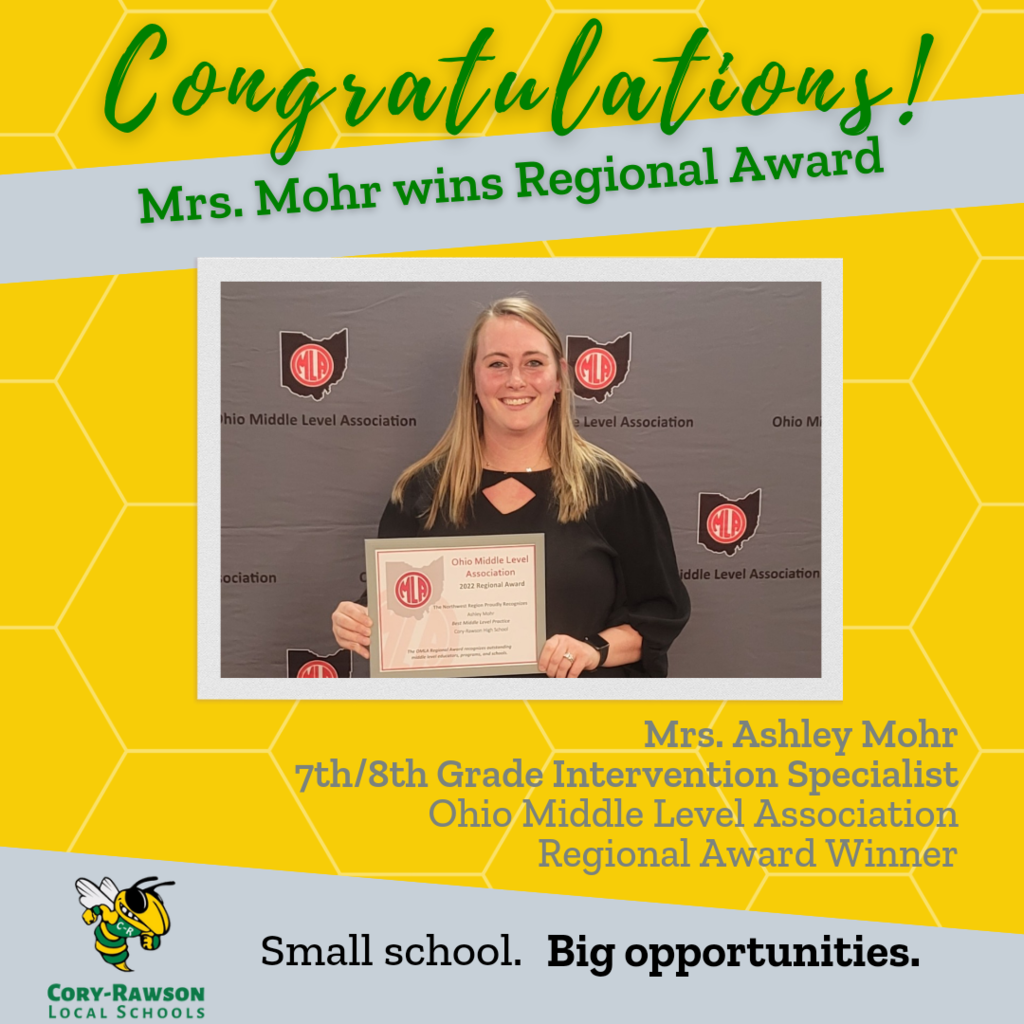 Today students visited Sofia Quintero Cultural Art Center and learned about art and culture in the Latino community as well as make their own Latin inspired lunch.