It's FIRST RESPONDER NIGHT at Friday's Cory-Rawson vs. Bluffton football game! The Cory-Rawson weight room will be dedicated as the "Dominic M. Francis Weight Room" (aka "The Dom") at 6:20pm on the north side of the weight room building. Kickoff is at 7:00pm. #HornetStrong

RAMP UP to 2022-2023... a few reminders on important upcoming dates as we start the school year. #HornetStrong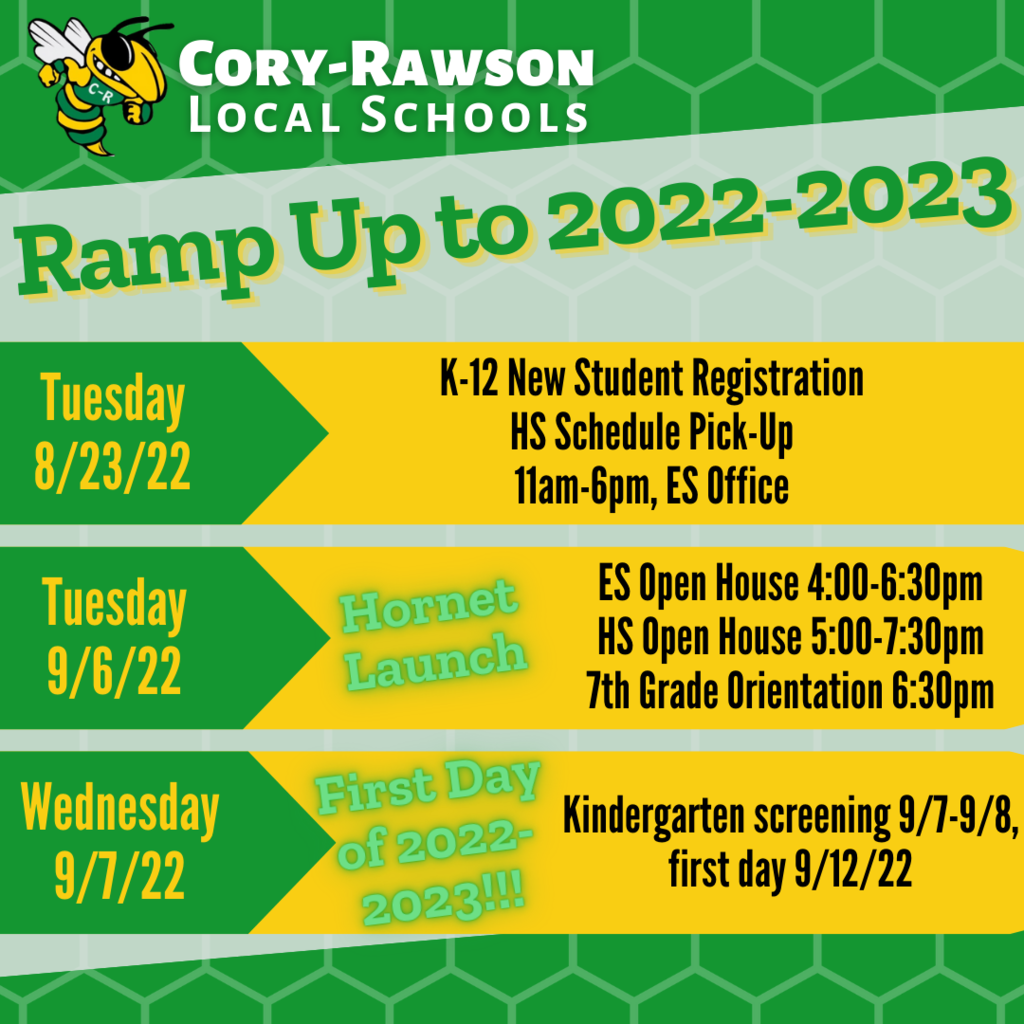 Elementary families continue outpacing high school in our Final Forms challenge. Our goal is to have 100% of forms complete by Labor Day weekend - if you have questions about completing your child's Final Forms, which are replacing the back-to-school paperwork, please contact Mrs. Lambert or Mrs. Welch. #HornetStrong

We welcome Mr. James Sammet, maintenance supervisor, to Cory-Rawson. Mr. Sammet is no stranger to Hornet country and brings with him a wealth of experience maintaining facilities. #HornetStrong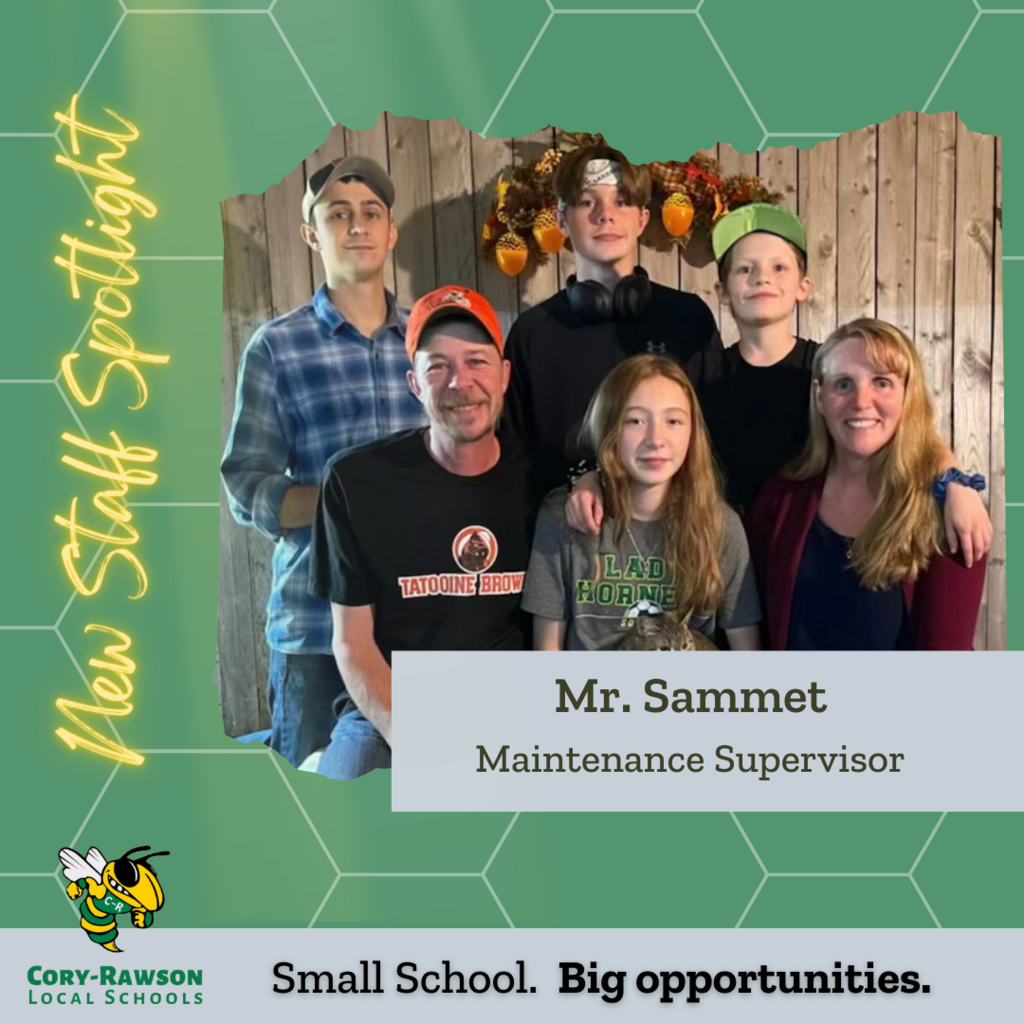 Participants in the elementary summer academy are taking a trip around the world with Mrs. Cavin. Today, they spent time in Germany playing a number of German games such as "Katze und Maus", "Eins, Zwei, Drei, Halt" and "Feuer, Wasser, Sturm, Blitz". #HornetStrong

It's COUNTDOWN THURSDAY #2! Mr. Scott shares updates and news about our fall sports and the dedication of the weight room facility to honor Dominic Francis.
https://youtu.be/zWurhBXojdY
#HornetStrong #CRCountdownThursday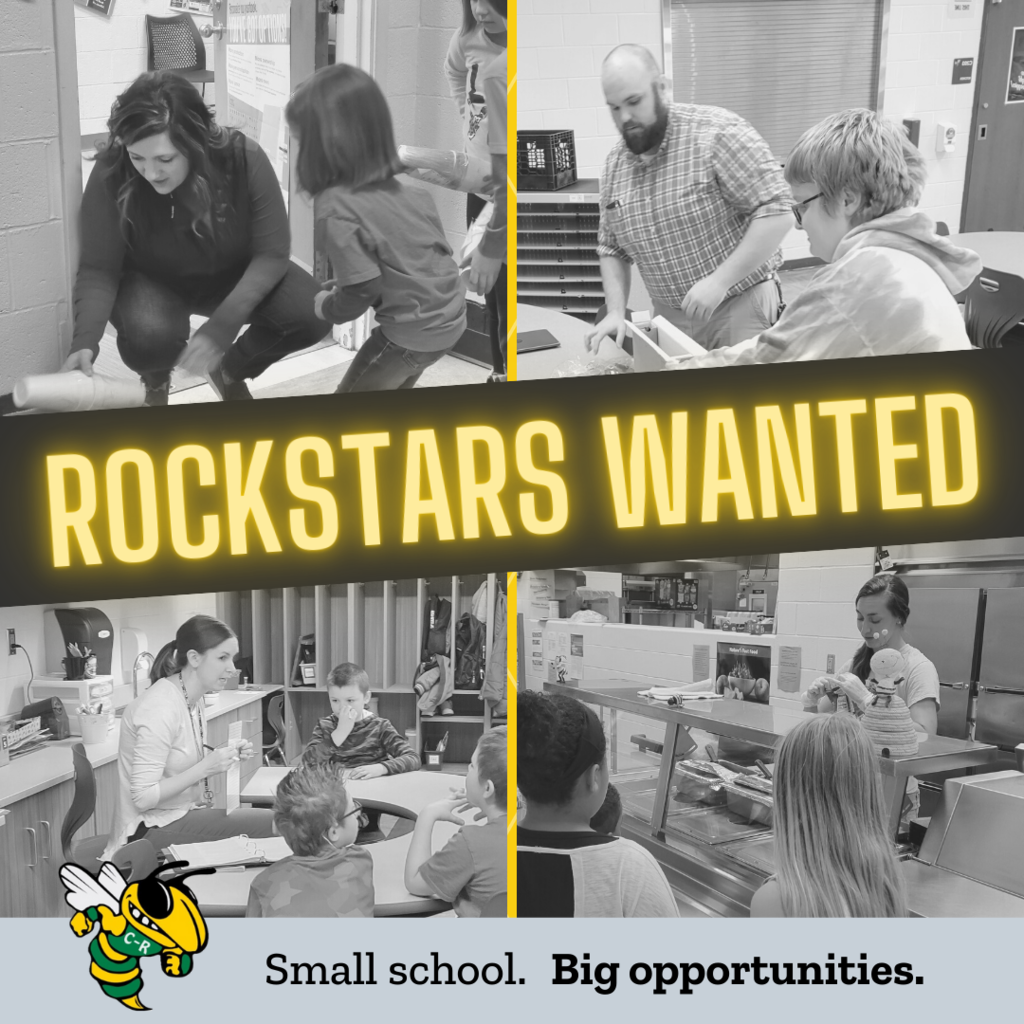 The pride in a job well done. Thanks to our custodial staff and student employees for going above and beyond in ensuring spaces that are not only conducive to learning, but that our community can be proud of as well. #HornetStrong

The Findlay-Hancock County Community Foundation is hosting Community Conversations in the district's villages over the next few weeks: Mt. Cory is Tuesday, August 9 at 5:30 pm in the Park Community Building. Rawson is Thursday August 11 at 5:30 pm at the Depot in Rawson. Jenera is Saturday August 20 at 8:30 am at the Community Building. Food and Drinks are provided at the meetings. Attendees will share what they like about their communities as well as what should be priorities for the community and Hancock County as a whole. The Foundation asks participants to RSVP at
https://www.community-foundation.com/cc22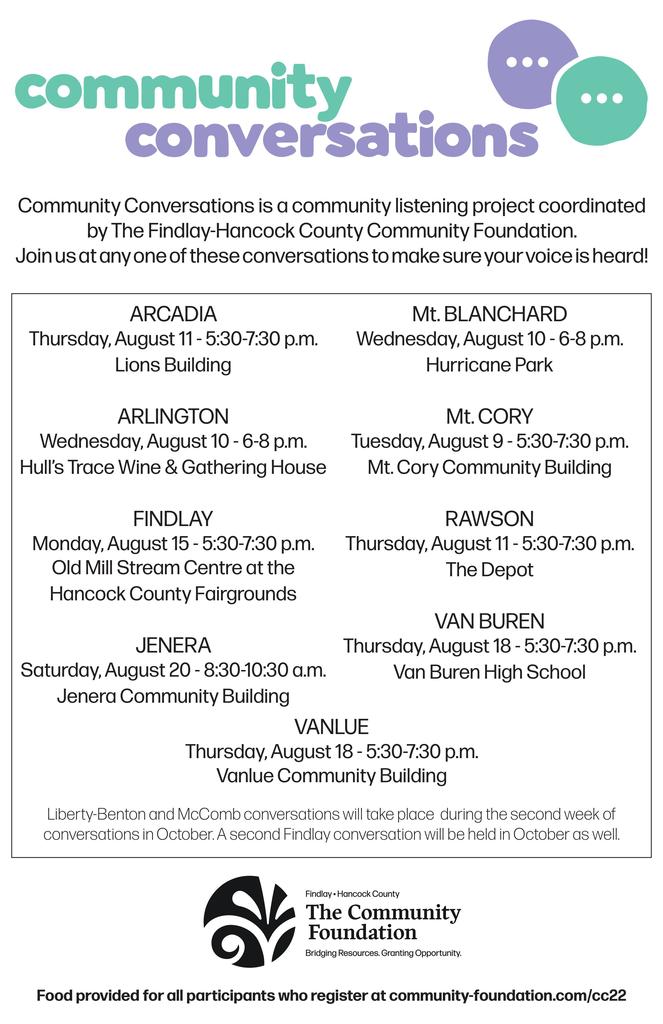 As of today, the elementary families are outpacing high school for Final Forms completion by 11%! Our goal is to have 100% of forms complete by Labor Day weekend - if you have questions about completing your child's Final Forms, which are replacing the back-to-school paperwork, please contact Mrs. Lambert or Mrs. Welch.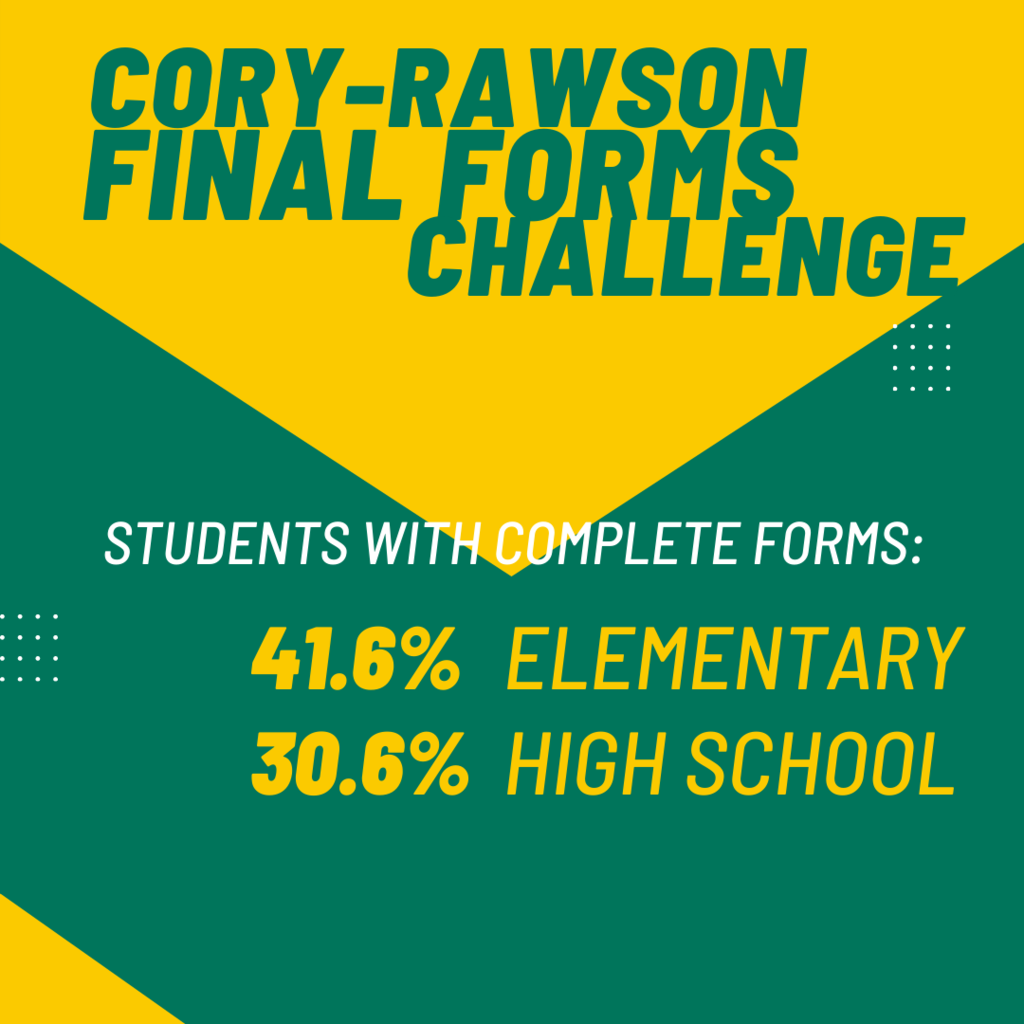 Mrs. Mendoza is joining Cory-Rawson as our new Spanish teacher after teaching Spanish and working as a classroom aide from grades kindergarten to high school. She shares a Spanish saying, "Haciendo y deshaciendo se va aprendiendo" – it's by doing and undoing that we learn. Mrs. Mendoza wants students to know that it's okay to make mistakes while learning a new language, as long as you keep trying. #HornetStrong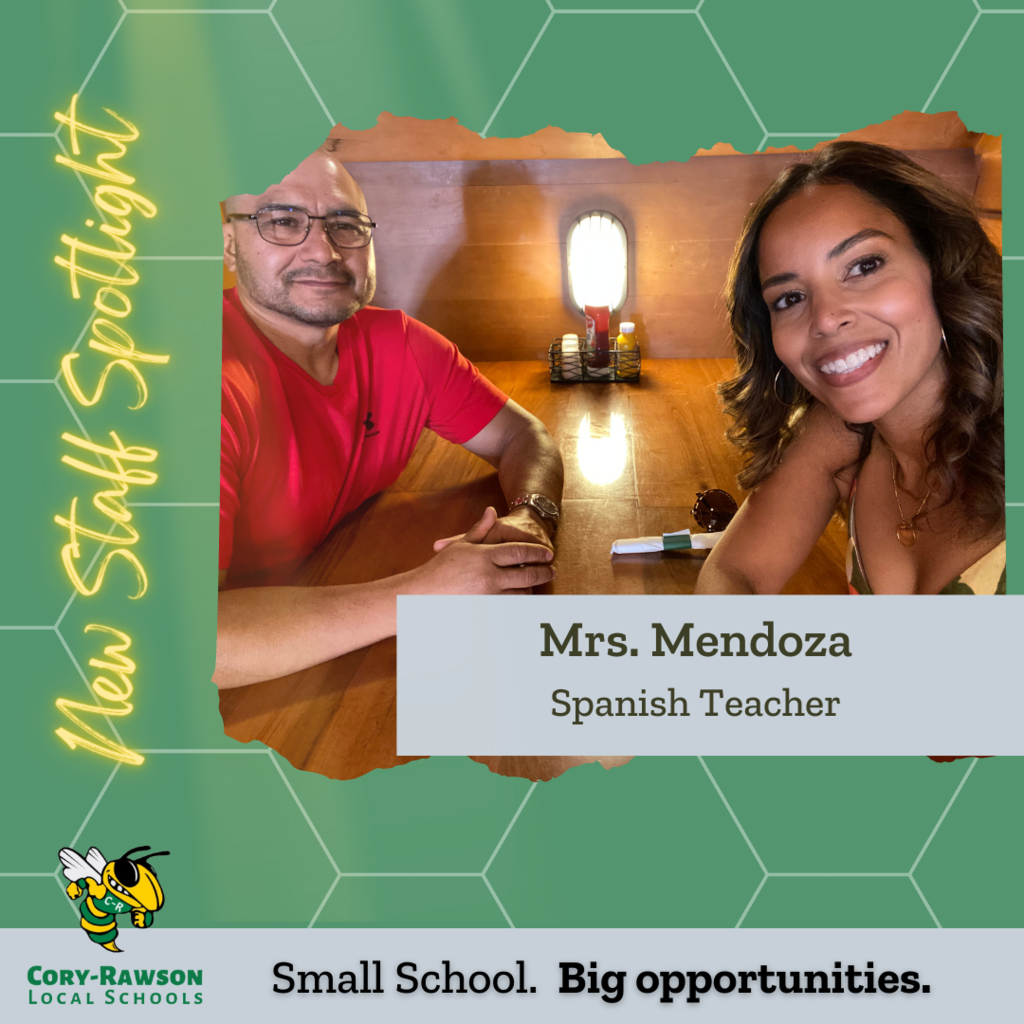 It's COUNTDOWN THURSDAY #1! The countdown to begin the 2022-2023 school year has begun! This week, Mrs. Gerten shares new class offerings, supports, and classroom moves at CRHS.
https://youtu.be/kb3iroSyzek
#HornetStrong #CRCountdownThursday

Cory-Rawson is in need of substitutes! Make a difference!!! For more details, go to:
https://5il.co/zief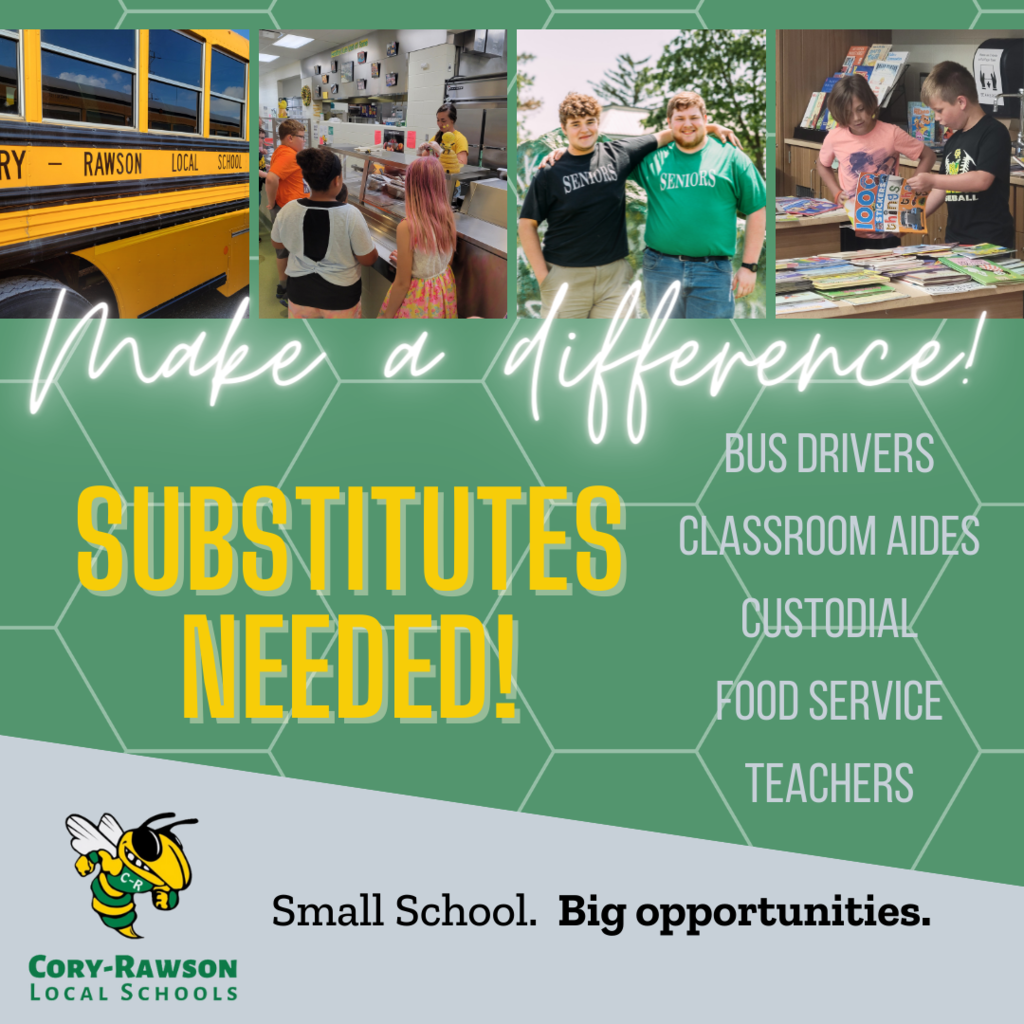 It's great to have more and more students back on campus for our summer programming and fall activities! #HornetStrong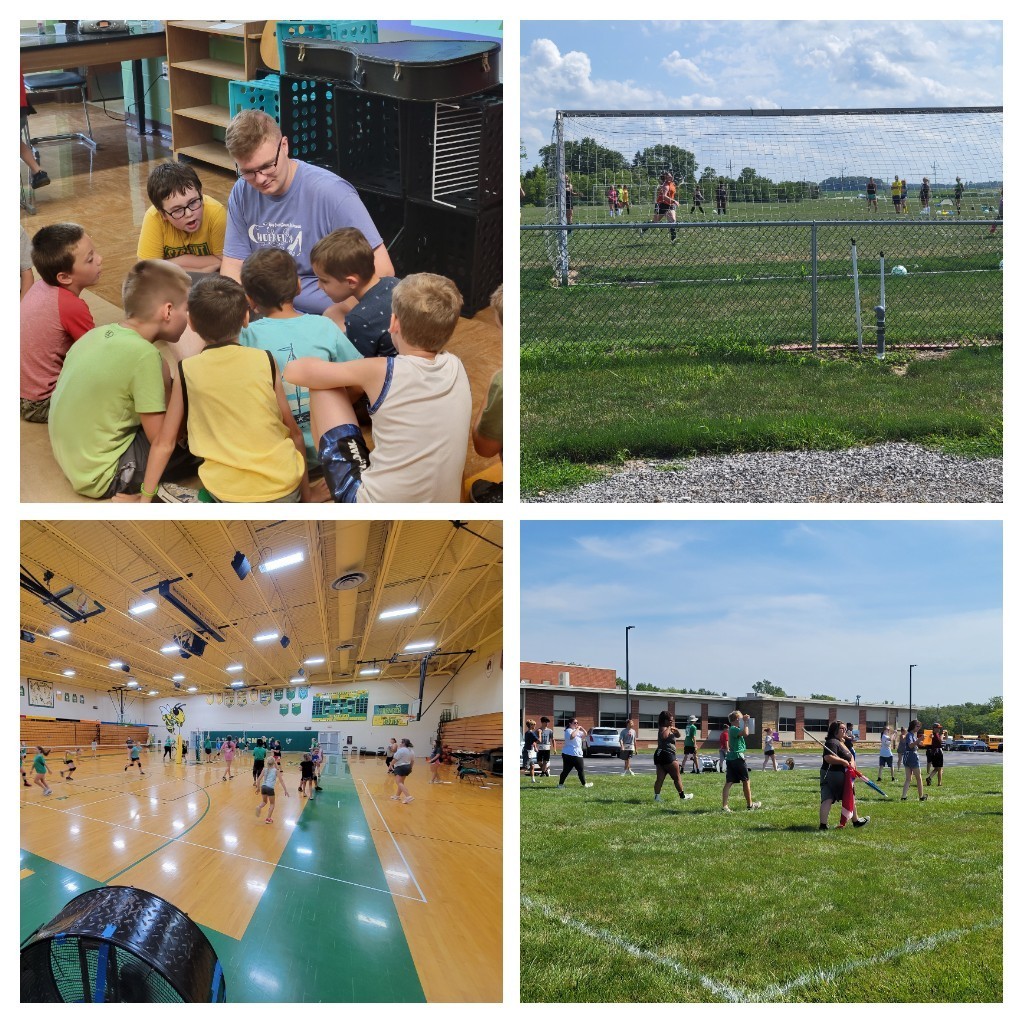 He's a man of many talents! Thanks to Mr. MacDonald on System Administrator Appreciation Day!!! #HornetStrong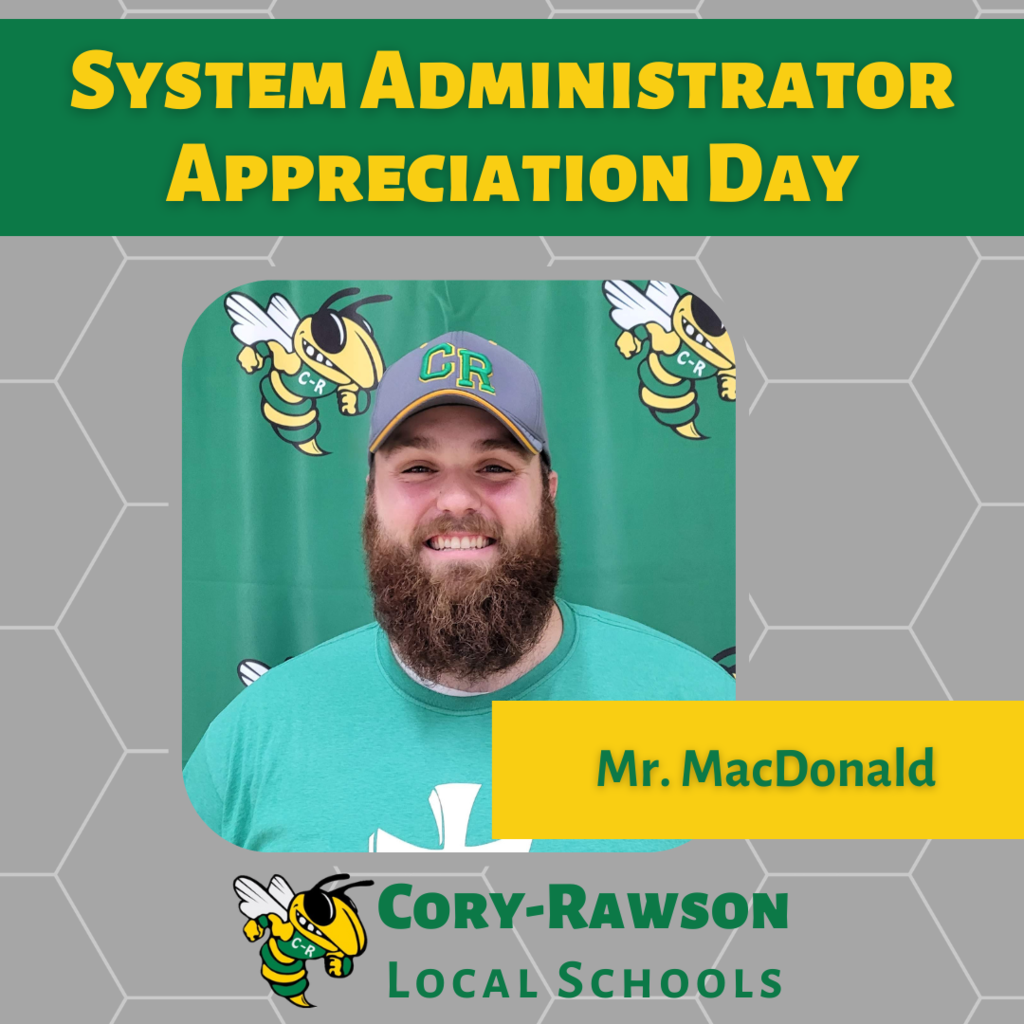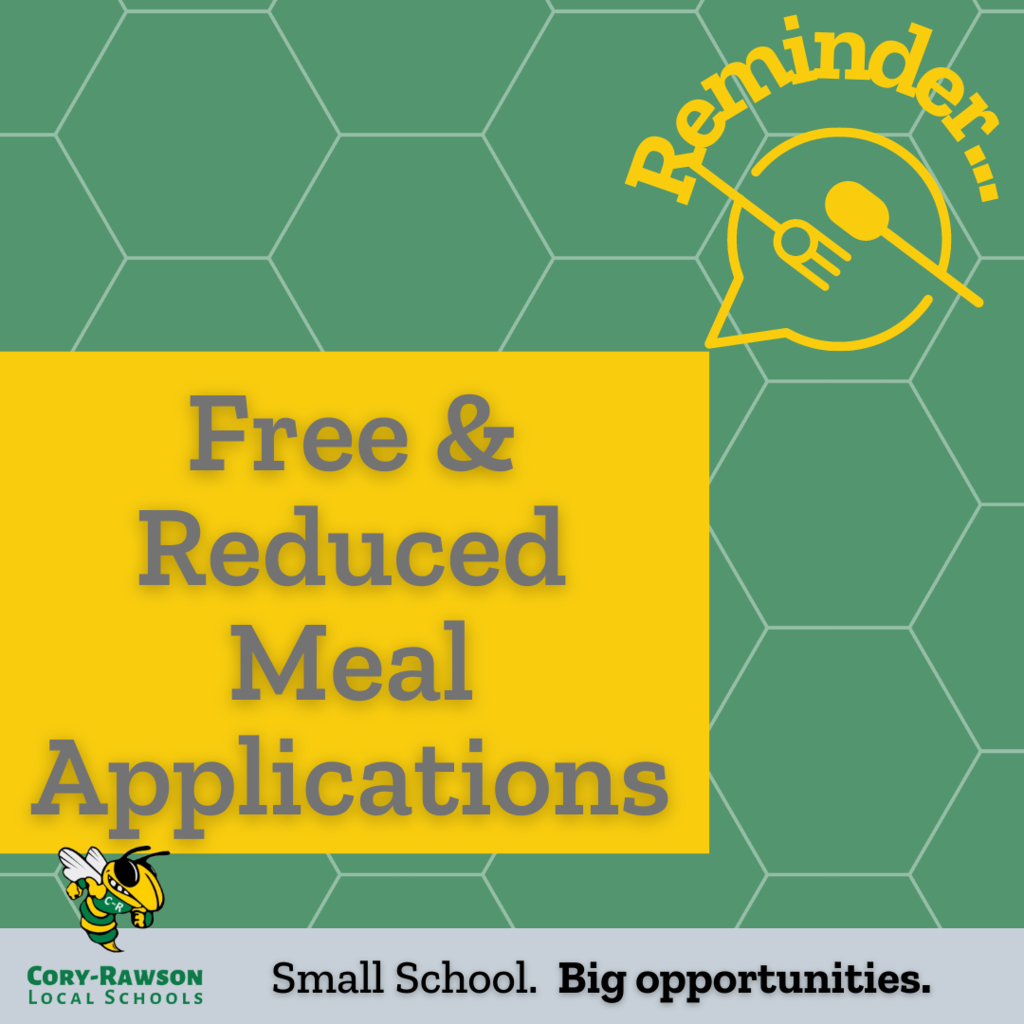 We will be using Final Forms for all of our student registration, emergency medical and contacts, and 7-12 athletic forms. Who should be logging into Final Forms now to complete forms? +Parents of returning K-12 students +Parents of 7-12 fall student-athletes +Returning 7-12 students +7-12 fall student-athletes Information we already have should be populated - only changes or additions will need to be made. Families should refer to the email sent by Final Forms on May 23 for login information. Questions? Contact Mrs. Lambert, Mrs. Welch, or Mr. Scott.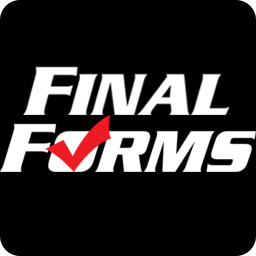 We're grateful for the support of our SOS organization and area churches in providing school supplies to all Cory-Rawson K-6 students again this year! All supplies will be provided with the exception of bookbags, gym shoes, and lunch boxes/bags. If replacement supplies are needed throughout the year, parents will provide those. Thanks to our community for ensuring our students are equipped to learn! #HornetStrong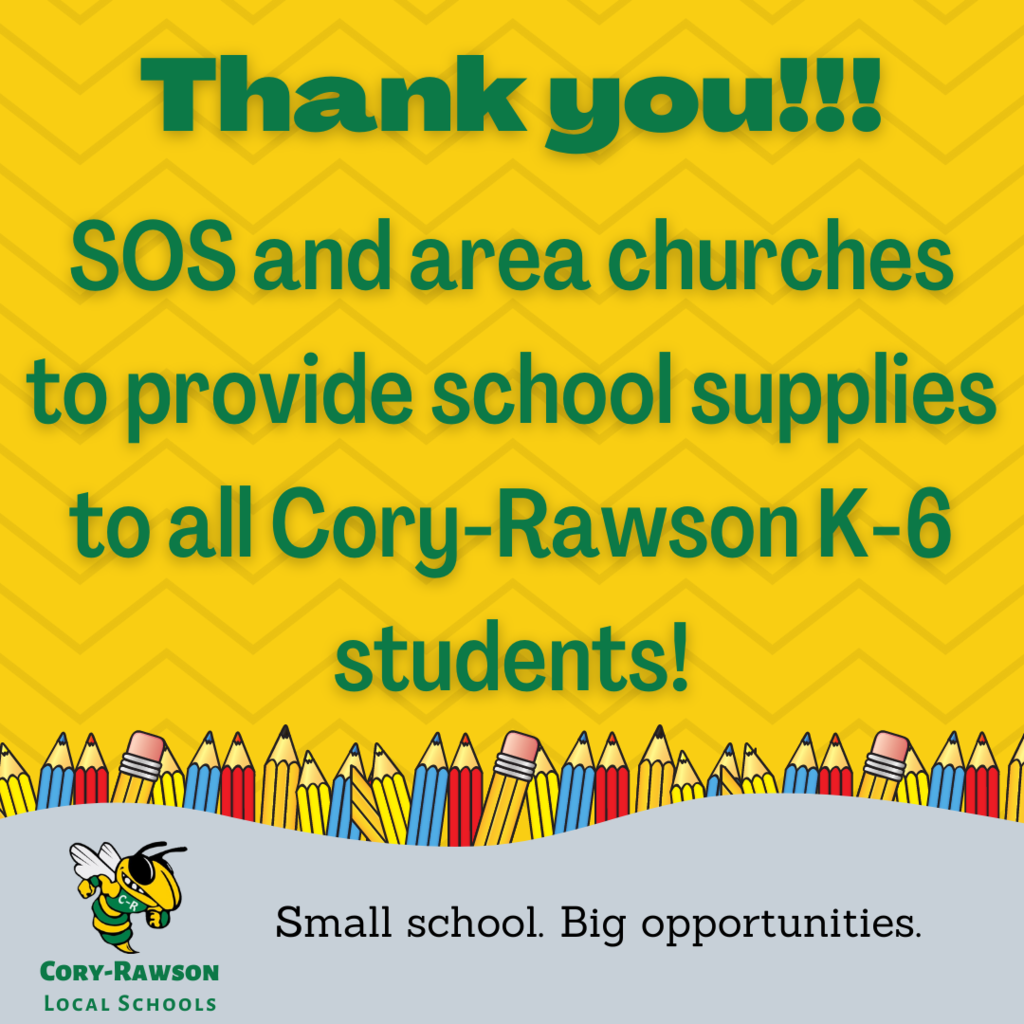 Summer break boredom buster... Last call for the Cory-Rawson Elementary summer program for students entering grades 1-6... registration deadline is Friday, July 15!
https://5il.co/1c258