Meet Megan Inbody, our first Student Spotlight!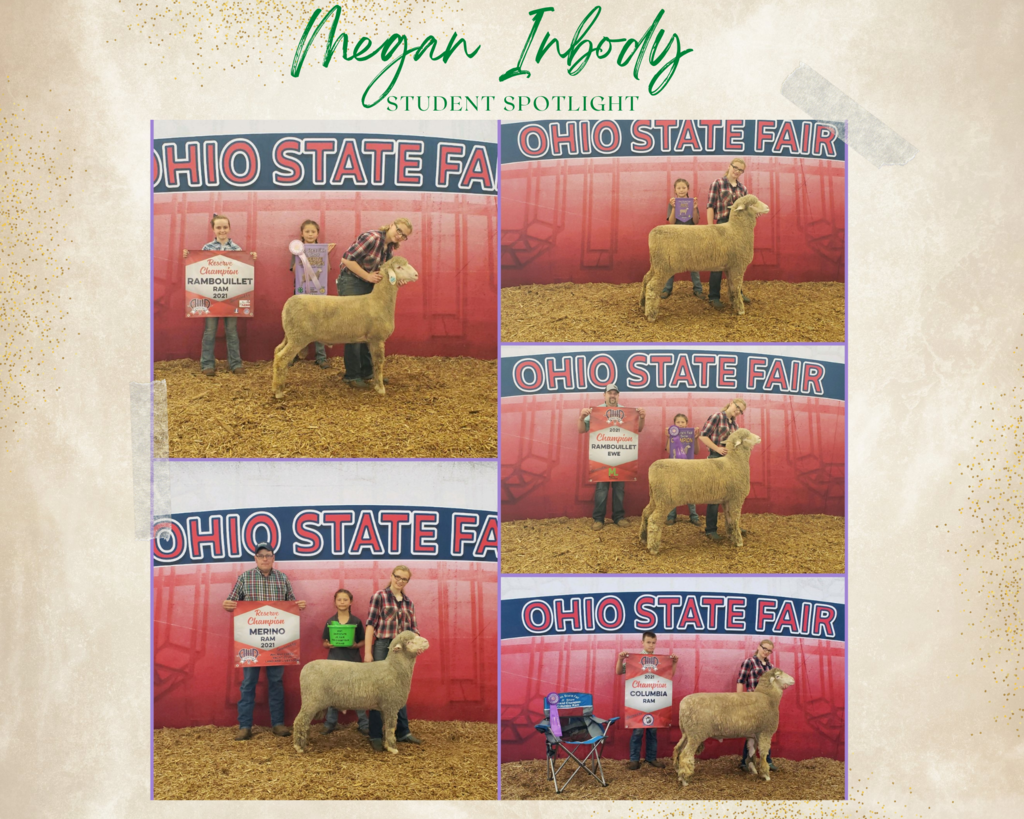 Huge Hornet Congratulations to the following students on being selected to play with the Hancock County Honors Band and Choir. Hancock County Honors Band: Jacob Egts, flute Brock Boehm, clarinet Becca Ludwig, clarinet Natalie Waltz, bass clarinet Evelyn Waltz, tenor saxophone Mattie Huber, trumpet Hunter Foust, trumpet Matthew Bechtol, French horn Kennidy Stanfield, French horn Morgan Huber, trombone Jenison Davidson, trombone Dani Mason, tuba Eric Davis, percussion Hancock County Honors Choir: Malia Lee Jenna Hartman We are so proud of you!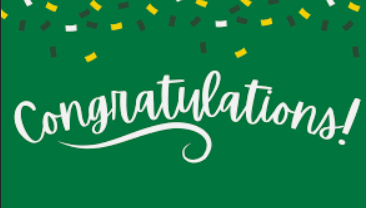 Get into the holiday spirit as our students perform over the next few weeks! The CRHS Chorale invites alumni to sing Hallelujah Chorus with us. If you plan on singing, please RSVP to
warnke@cory-rawson.org
#HornetStrong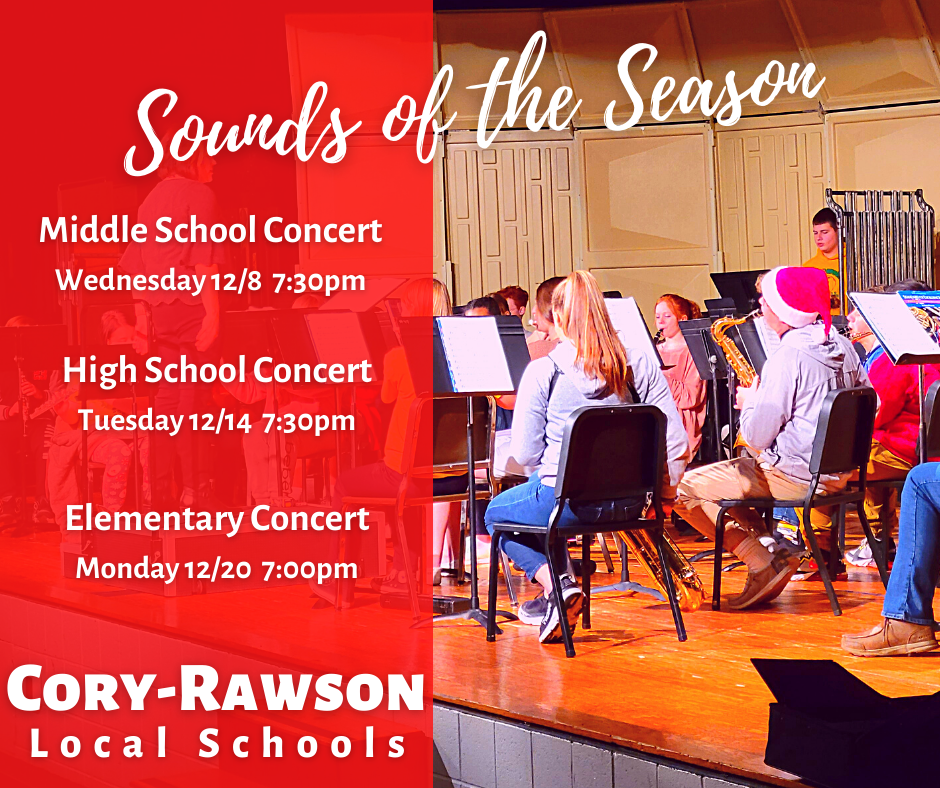 Big events happening around campus and not all competitions are taking place on the court! Meet 2 Tug of War robots.... Froggy and The Torque Beast. Stay tuned over the upcoming days to see other robots being created as well as the Tug of War competition!!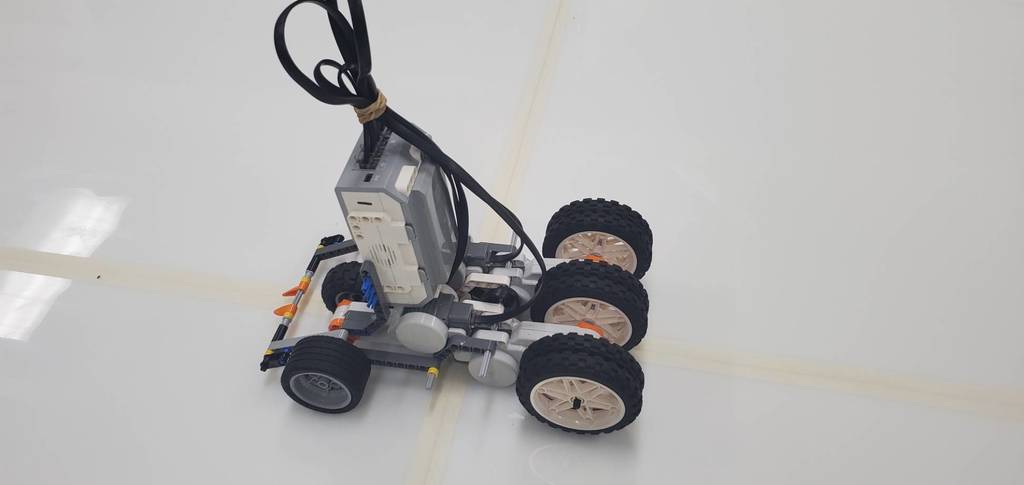 Anatomy students had the opportunity to dig in and analyze deer bones in class!
Many thanks to these study hall students who helped to collect and sort canned food today! Winners will be announced tomorrow; many thanks to all who donated food for the Salvation Army and local families!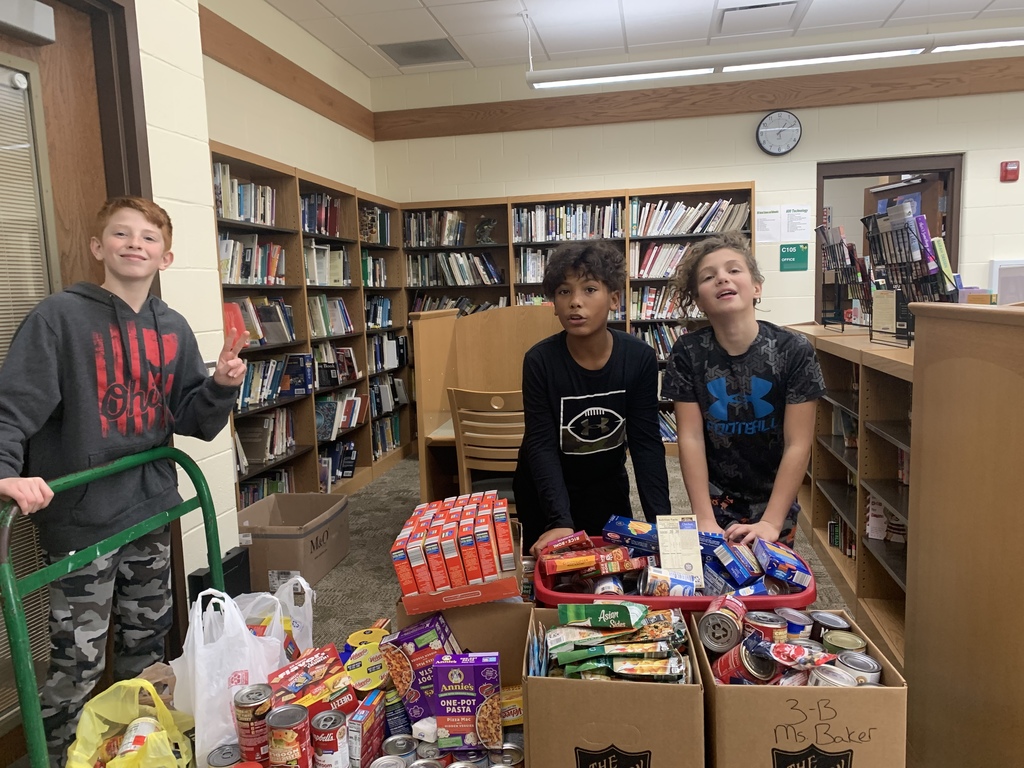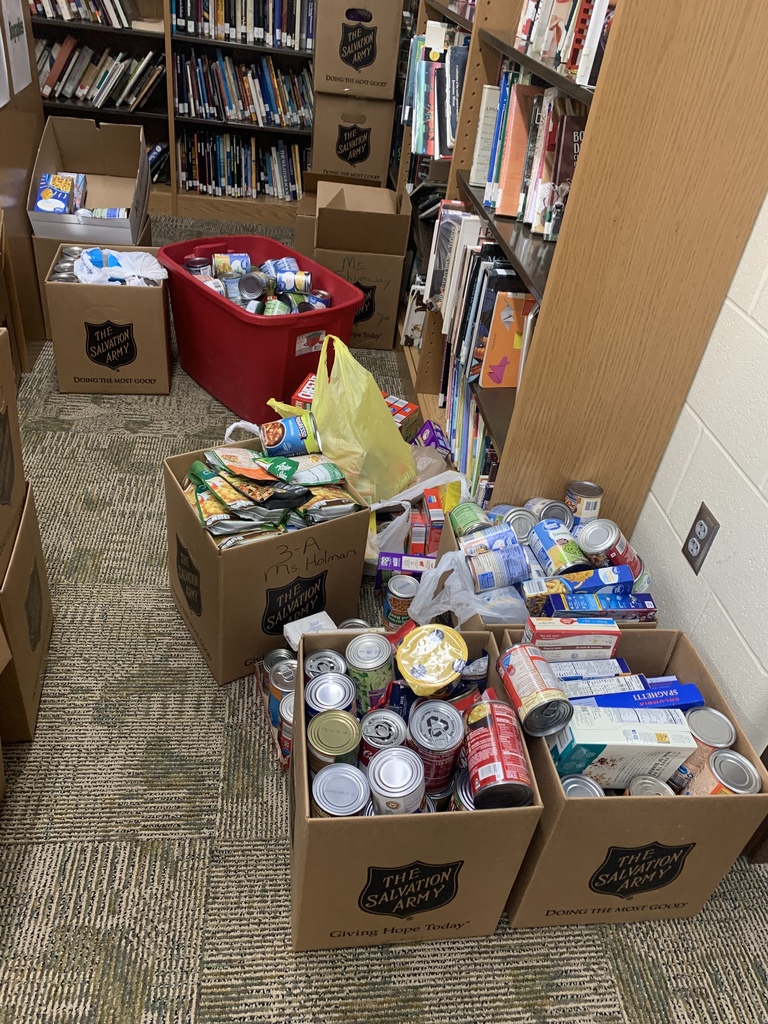 Watch as Ms. Baker's classroom transforms into a candy shop complete with certificates, background music, and math problems! During this workshop, students practiced their math with a partner at each station around the room.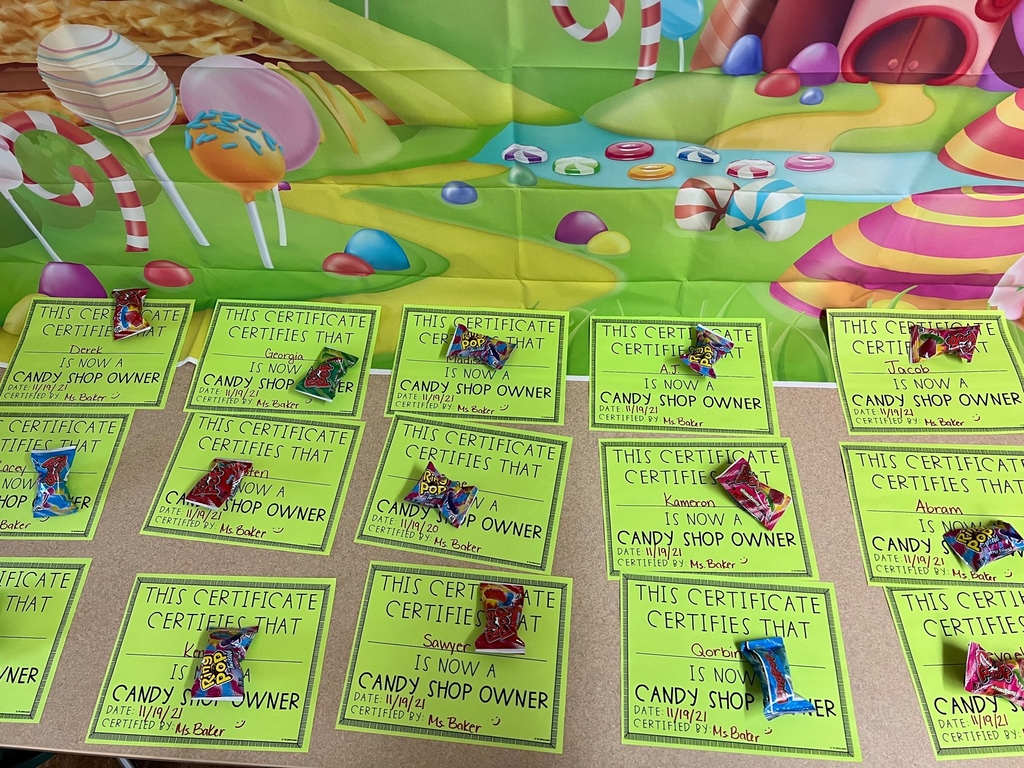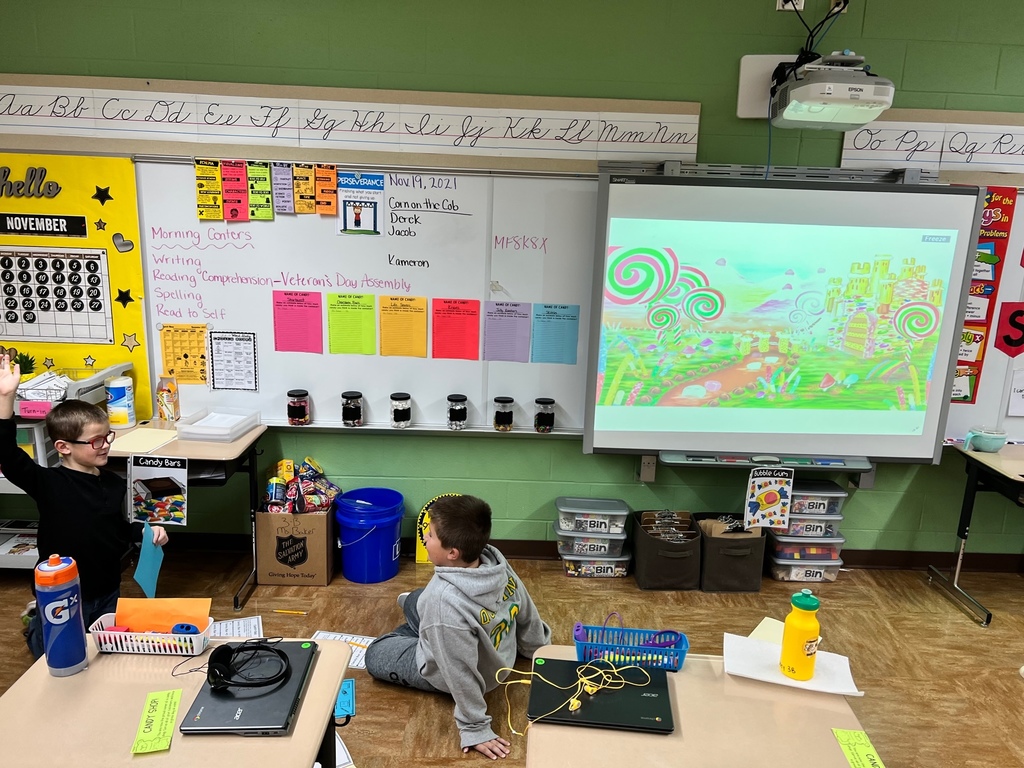 Our winter sports are in full swing! Best of luck to all teams!!! #StingersUp #HornetStrong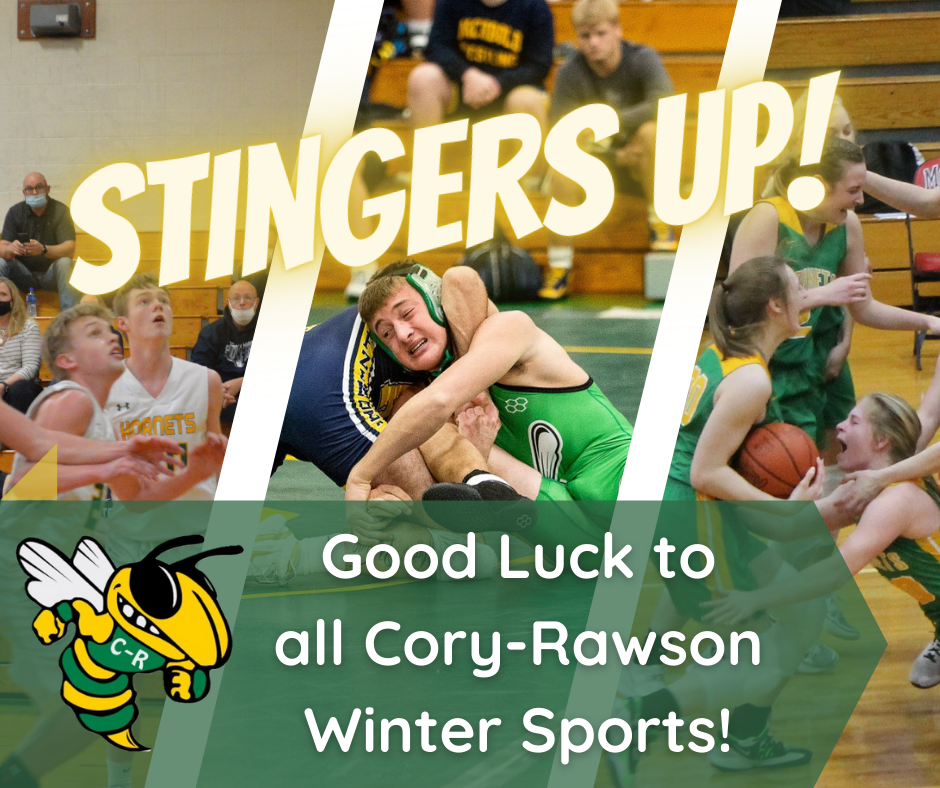 Happy Thanksgiving #HornetNation! Cory-Rawson Local Schools will be on Thanksgiving break Wednesday 11/24/21 through Sunday 11/28/21. Classes resume Monday 11/29/21.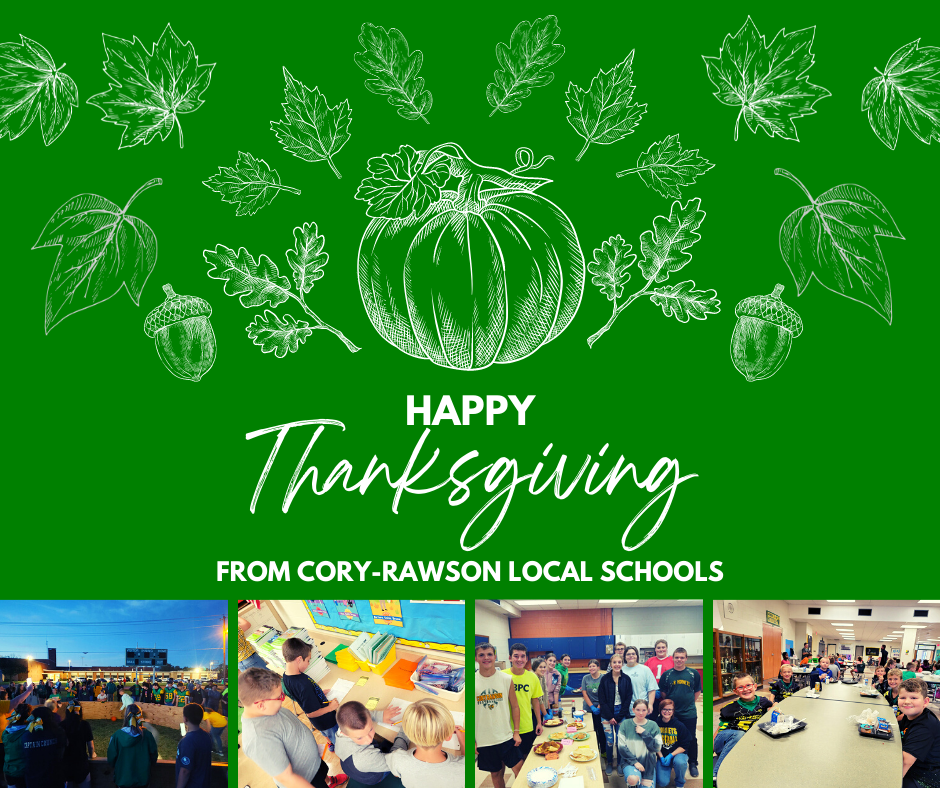 Students that made the honor roll for the 1st quarter were treated to carter bars and apple cider before heading off for Thanksgiving Break!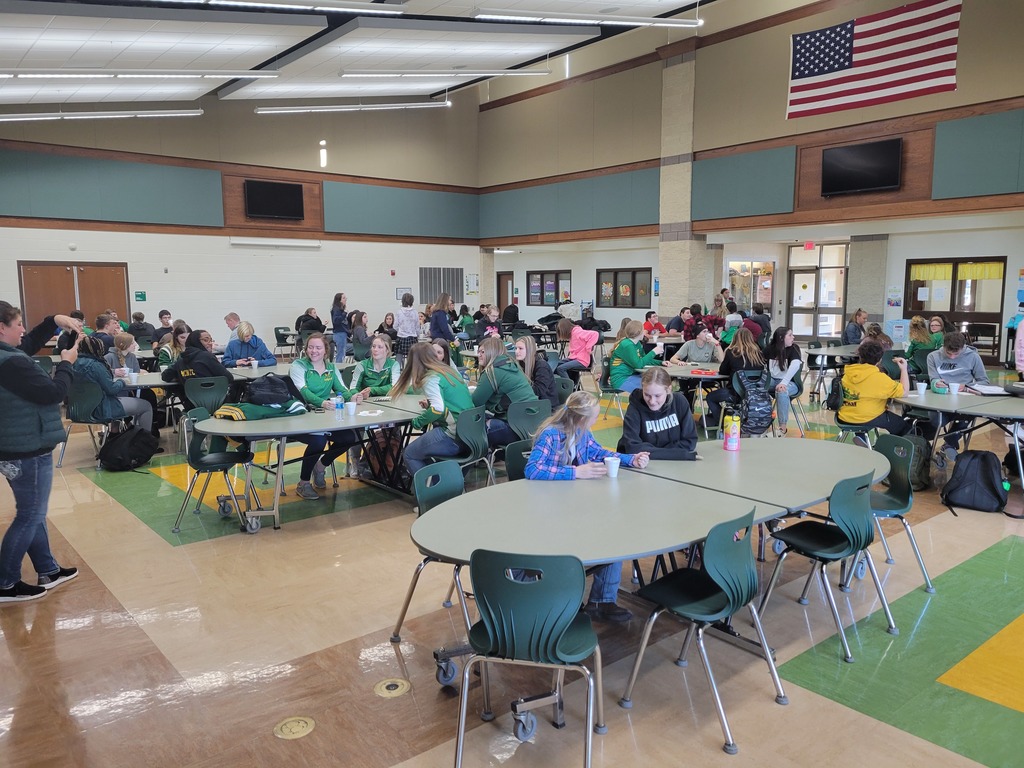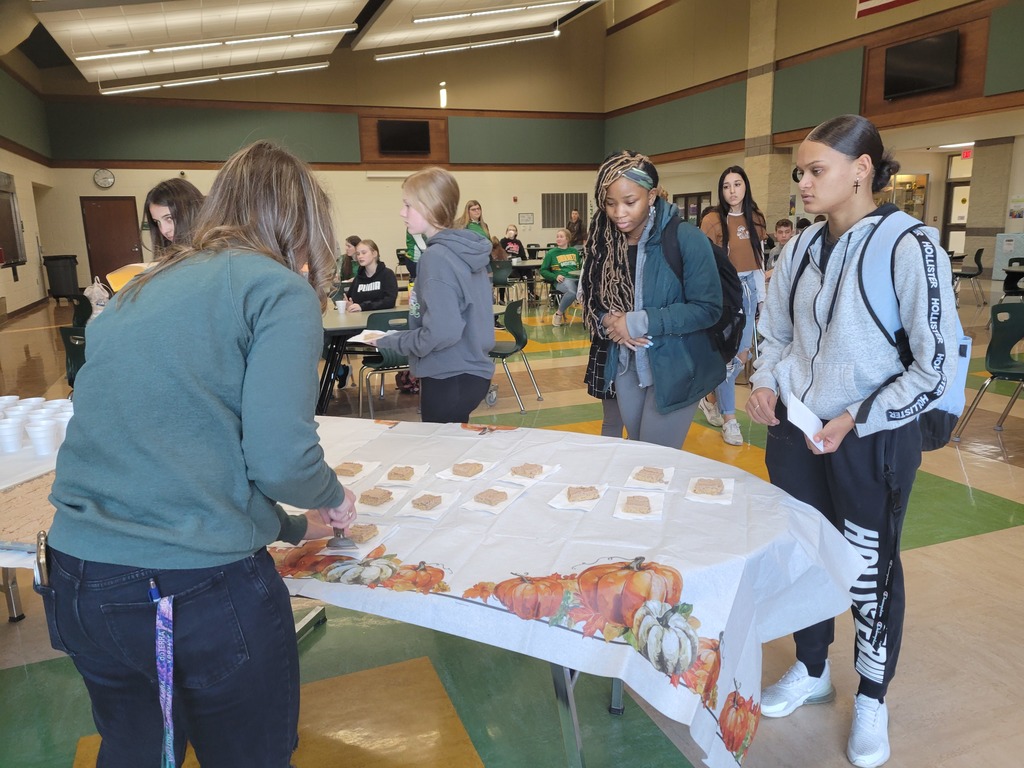 Hello everyone, Final report cards are currently unavailable on Progressbook electronically. Paper copies of report cards are being sent home with students today. When the issue with Progressbook is resolved, the link for electronic report cards will also be available. Thank you for your patience!

HORNET HALL OF FAME - ALL A's SEVENTH GRADE: Macie Augustine, Molly Spaeth, Kaedyn Witteman EIGHTH GRADE: Hailey Sparks, Hank Walters FRESHMEN: Hannah Fornof, Madison Krieger, Hunter Niese, Preston Stumpp, Tyler Tinman, Mackenzi Welch, Keira Witteman SOPHOMORES: Blake Downing, Carson Skulina, Grant Welte JUNIORS: Mike Bixler, Brock Boehm, Katelynn Cascaden, Eric Davis, Madelyn Duffman, Franciska Duncan, Korryn Karcher, Brynn Reese SENIORS: Matthew Bechtol, Izaak Hingson, Mattie Huber, Malia Lee, Cade Marshall, Evelyn Waltz, Karissa Welte THOSE HAVING B'S OR BETTER SEVENTH GRADE: Troy Downing, Brieahna May, Lleyton Miller, Casey Montgomery, Peyton Nickels, David Peckham, Marlissa Schimmoeller, Marissa Wannemacher, Trevor Welch EIGHTH GRADE: Abigail Aukerman, Madison Boehm, Hazel Dixon, Katelyn Duffman, Shirlee Fornof, Nathaniel Gregorowicz, McKenna Huber, Ellie Keuneke, Jaylin Patterson, Ava Price, Carson Reese, Ariana Warren, Laurey Wittenmyer FRESHMEN: Lane Banner, Alexa Cascaden, Jayson Cunningham, Kaleb Cooper, Caleb Goldsberry, Lilian Gregorowicz, Nikkole Herman, Trevor Hibbard, Becca Ludwig, Mackenzie Marquart, Morgan McVetta, Allison Stuckey, Natalie Waltz, Lorelai Yannelli SOPHOMORES: Olivia Bacon, Blake Boehm, Carmen Collins, Hunter Foust, Emma Garver, Haden Johnson, Chelcie McVetta, Makala Oman, Jeremiah Purdy, Keegan Puthoff, Madison Spaeth JUNIORS: Madison Bixler, Jonathan Black, Matthew Burkholder, Makayla Gillfillan, Chance Gossman, Abby Hardy, Paige McVetta, Marah Price, Quincie Pritchett, Quinn Reinhart, Katelin Rutherford, Brandon Stuckey, Nolan Weber, Grant Wilson SENIORS: Jenison Davidson, Averie Elchert, Allison Garmatter, Ethan Haskins, McKenzie Hauenstein, Megan Inbody, Carson Kisseberth, Savoux McNeil, Briona Thomas

Need a coat? Have a coat to donate? Check out the Coats for Christmas information...
Opportunities + Experiences = The Hornet Way! Our awesome new Tech Director, Mr. MacDonald is all about creating new experiences! Students are working during study hall to expand their knowledge... Brent Cavin and Abby Aukerman are taking apart Chromebooks and Jacob Miles is perfecting his soldering!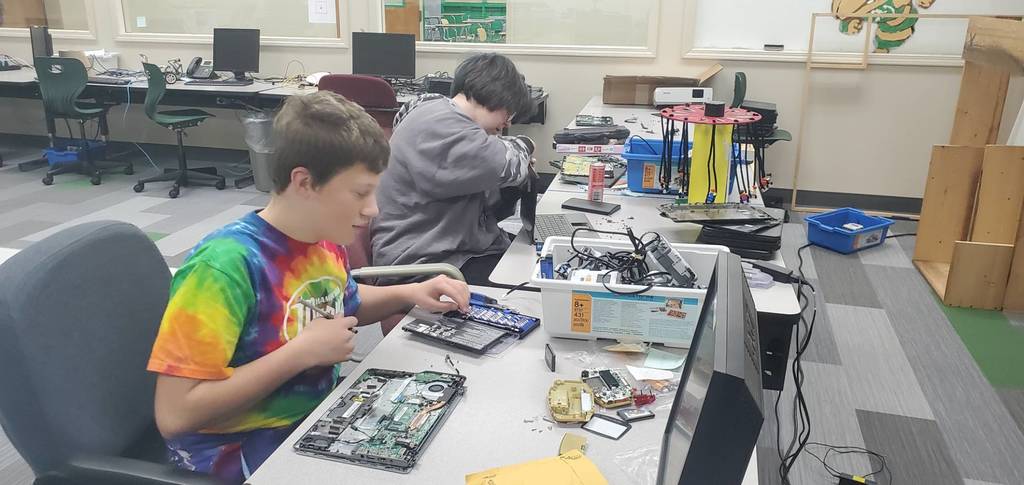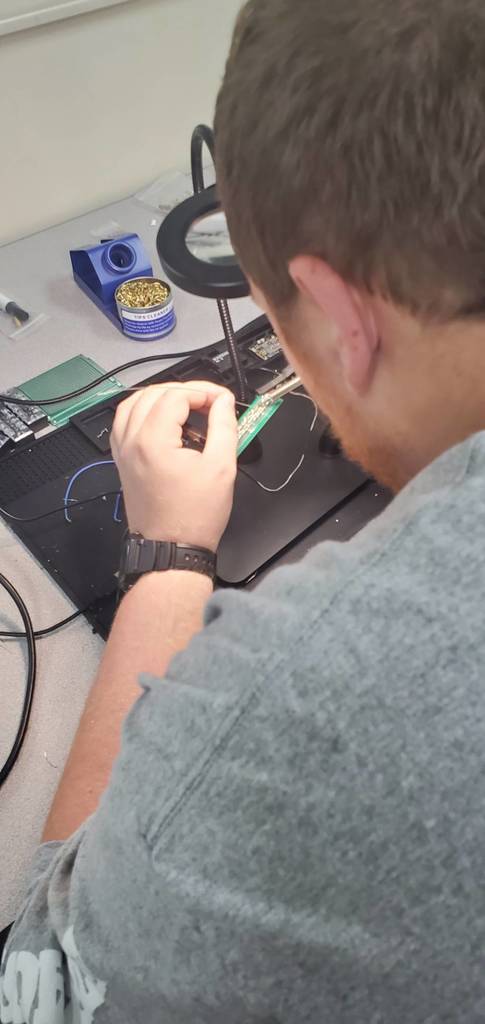 Thank you to McNaughton-McKay Electric of Findlay for the book donation to our K-3 students! Each student received a book bag filled with books and you could see the excitement for new reading. Another thank you to Mark, Shawn, and Bill for delivering the books to our students.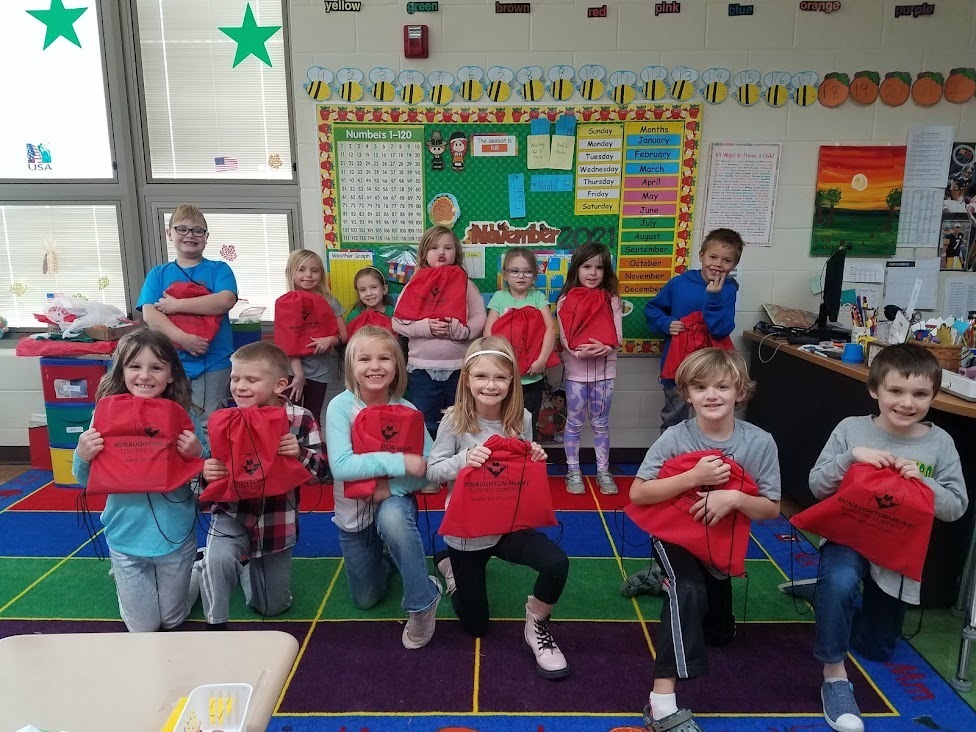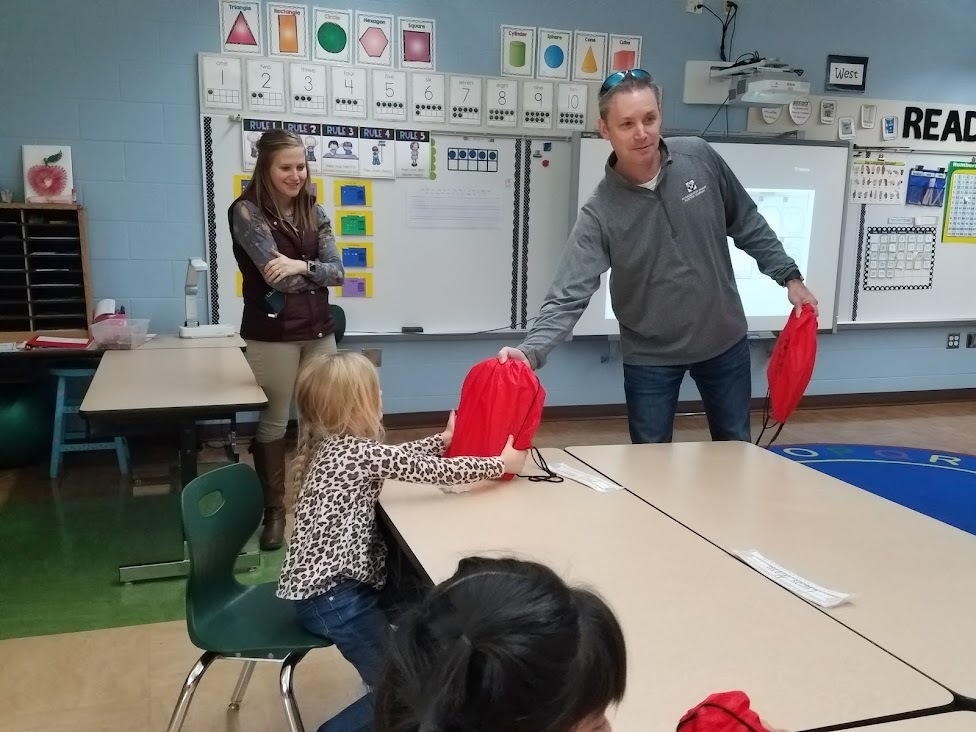 Mrs. Morrison had some extra help putting the tree up in the Library today!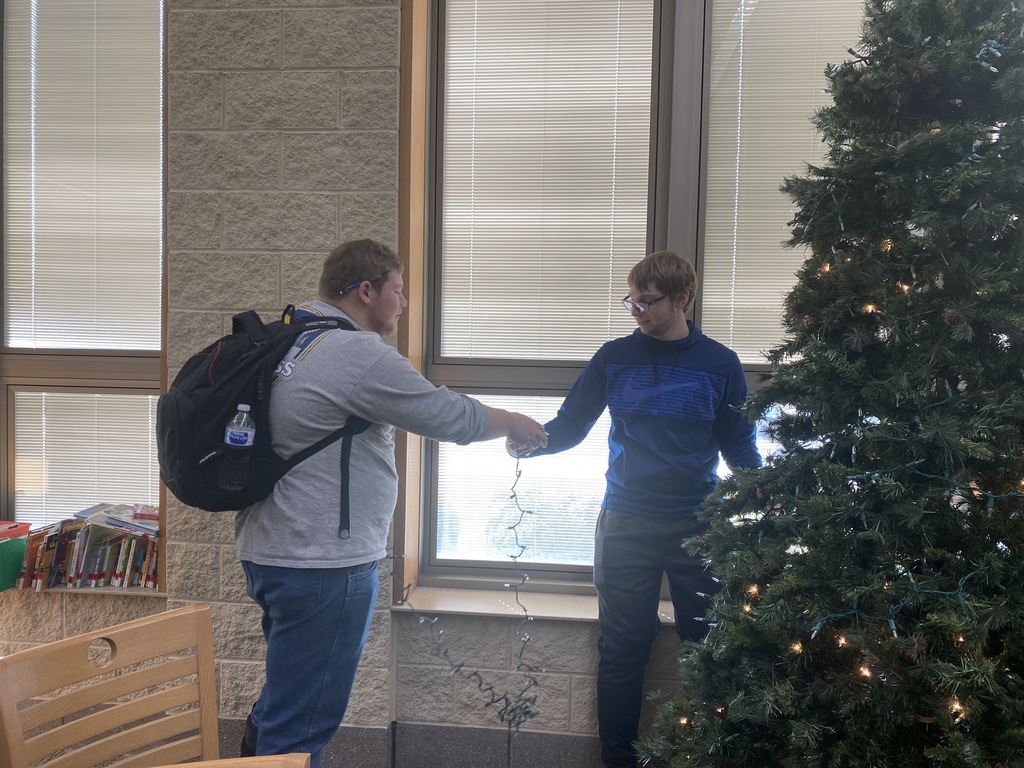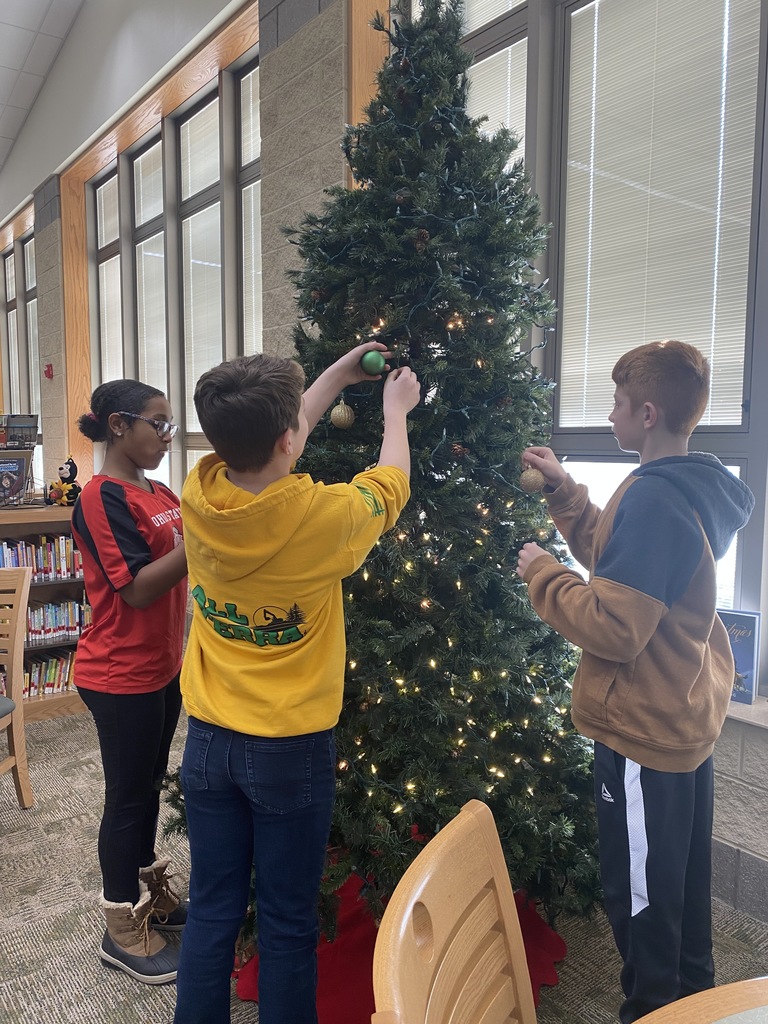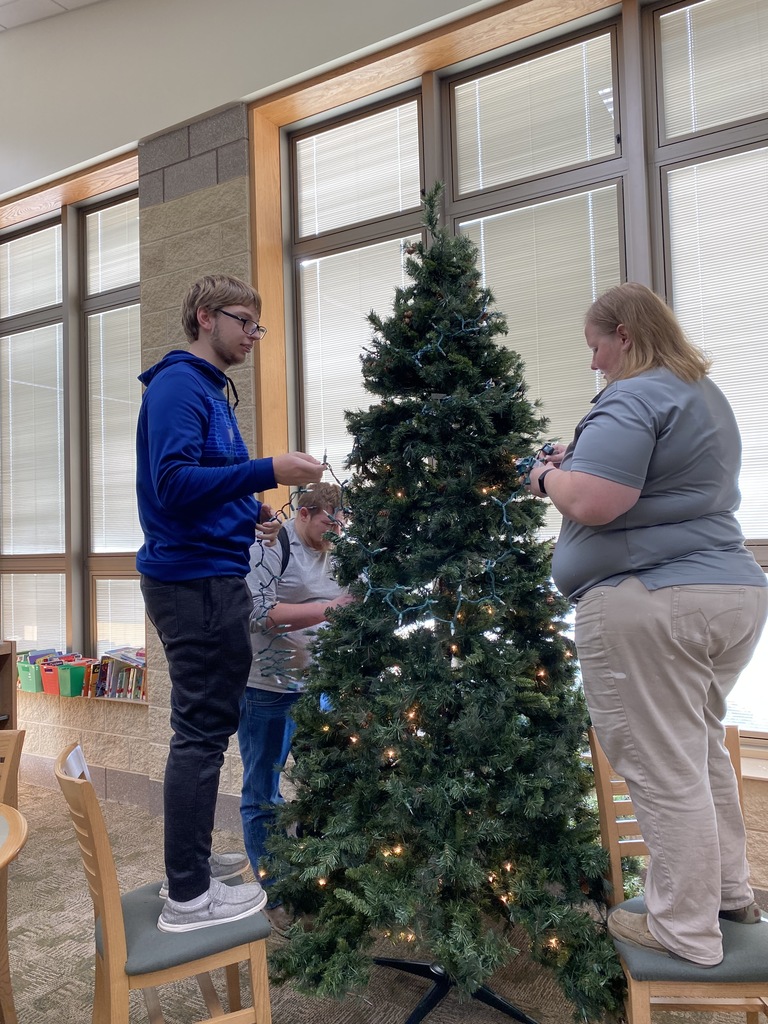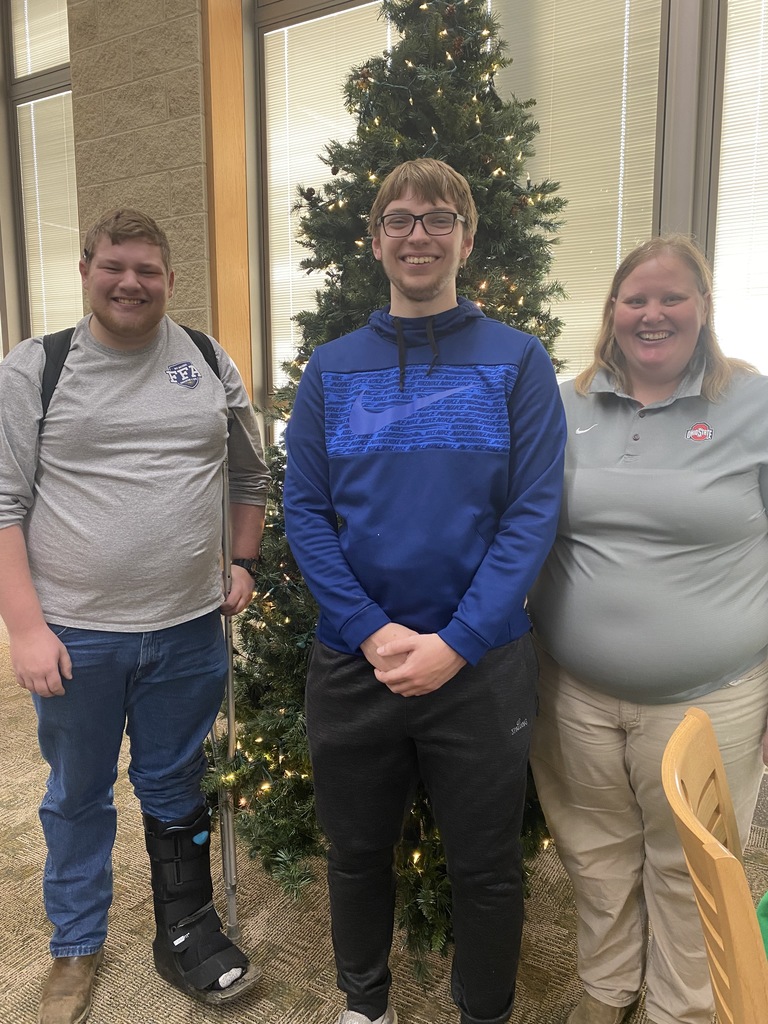 SOS Reminder: Gift card and wreath pickup today in the cafeteria from 3-5:30 pm. If you cannot make it today, then pickup will be during school hours tomorrow. Thank you for supporting SOS!
Band/Choir Members - We just received an update that the Texas Roadhouse orders are coming in early next week.  We will have pick up in the concession stand on Tuesday, November 23rd from 3-5 PM in the concession stand.  If you aren't delivering to customers right away you will need to freeze them so they don't thaw out and begin to rise.  Thank you for your flexibility and patience while we waited for them to set a date.