Make it an amazing weekend, Hornets!!! #HornetStrong
Congratulations to Carrie, Case, and Peyton, who are Dep. Ewing's SRO Students of the Month for November! #HornetStrong
Are you in need of holiday spirit? Look no further than these upcoming holiday performances by our students!
Interested CRHS students attended Raise the Bar's construction and architecture expo day yesterday. Thanks to a number of area partners who shared their industry with our students! #HornetStrong
Do you have children under the age of 5 in your life? Enroll them in Dolly Parton's Imagination Library of Ohio! They will receive free book each month through the mail. There's nothing better than the gift of literacy!!!
https://www.ohioimaginationlibrary.org/enroll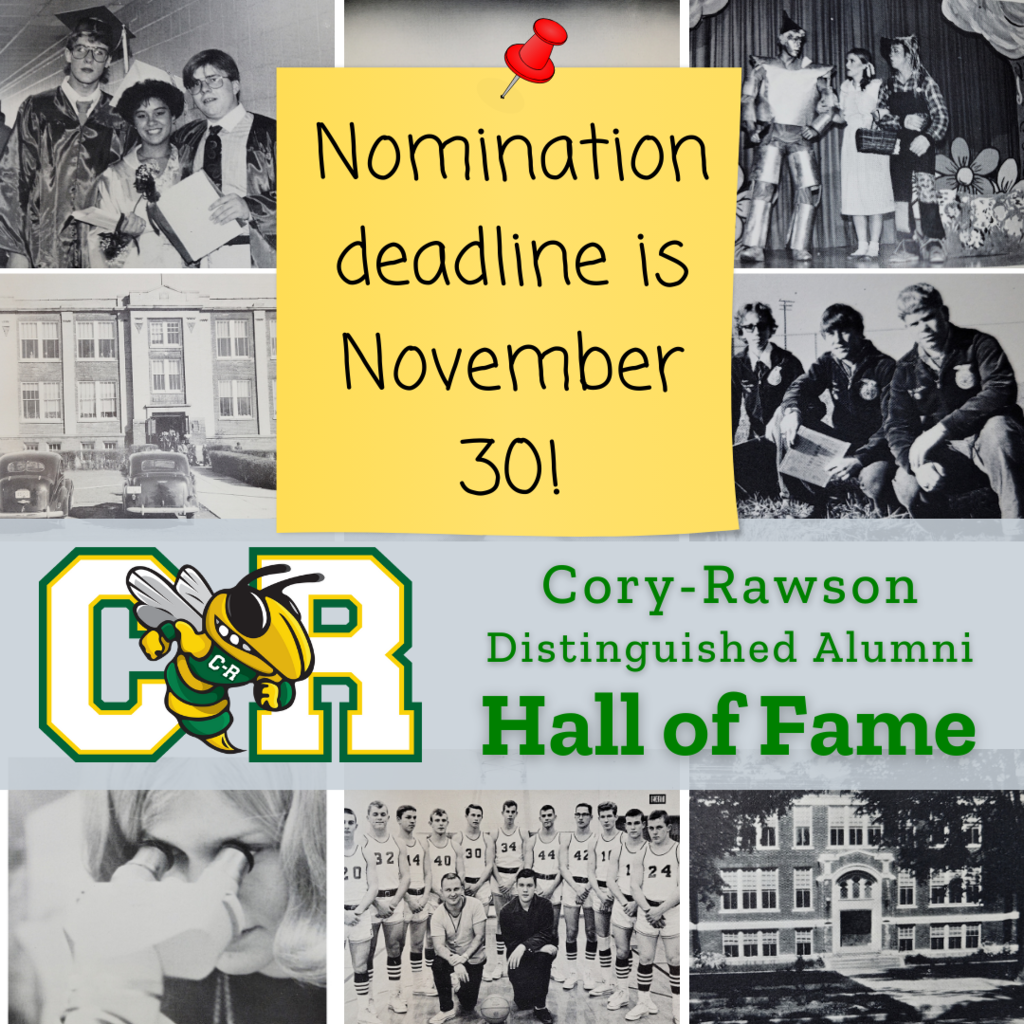 Our junior high houses competed in the Mischievous Turkey Escape Room challenge this week. Congratulations to the Amistad house on their victory! #HornetStrong
We wish all of our families a wonderful Thanksgiving! Enjoy some Thanksgiving cheer from our first graders...
https://youtu.be/efZSTxztyQg
#HornetStrong
Our rock star food service staff is serving up a delicious Thanksgiving feast to our students and staff today! The aroma of roasting turkeys filled the hallways all morning. #HornetStrong
Congratulations Abram Bormuth, Dep. Ewing's SRO Student of the Month for the elementary! #HornetStrong
Our 7th grade STEM class constructed a Leonardo da Vinci bridge this week. This bridge is built with just 4 foot long pieces of 2"x2" lumber - without screws, nails, bolts or any other kind of connectors. #HornetStrong   
It's been a great week at Cory-Rawson! Have an enjoyable weekend, Hornets!!! #HornetStrong
Yesterday, CRHS gathered to celebrate first quarter academic achievements including honor roll and our Lead by Example awards. Congratulations to our first quarter Super Hornets: Caleb Baumunk, Kayleen Blake, Blake Downing, Nate Gregorowicz, Logan Inbody, Edy Jawhar, and Mrs. Davis. Custodian Mr. Ray Curth was recognized for going above and beyond. #HornetStrong
They save the day! Thanks to our substitute teachers, custodians, bus drivers, secretaries, food service staff, and aides!!! #HornetStrong
CRHS wrapped up their November Speakers Series this week. Thank you to this week's guests from The Ohio State University, Owens Community College, Lewis Family McDonalds, Apollo Career Center Adult Education, Unverferth Robotics, Summit Salon Academy, and nurse Kayla Sandhu! #HornetStrong #FutureFocus
Students in our Graphic Design Class created advertisements for various businesses. If the business chooses to buy the ad, students will receive half of the ad revenue and their work will be published in the Bluffton News. The other half of the sale will be put into a fund to pay student writers for the newspaper. Yesterday, the class presented their ads to the businesses and tried their hands at sales, including Lulu's in Bluffton and Sports Center Lanes in Pandora. Our students represented Cory-Rawson well, putting some of our Portrait of a Hornet attributes to the test. #HornetStrong
Freshman English students saw "The Diary of Anne Frank" at UT followed by an enjoyable lunch at Charlie's today!
Today we had a great opportunity at Cory-Rawson High School! The Environmental Science class held their annual deer processing lab that took place in our Ag Shop right here on campus. The students gained knowledge on how to field dress, skin, and prepare the meat for the freezer. Once the CWD test comes in the students will explore ways to cook and prepare the products of their work with a venison cookout. A huge thank you to all involved, especially Jaron Beck, Outdoor Skills Specialist, from ODNR for conducting the lab and Ms. James for use of the shop!